Water Meter Faults and Leaks
If you have a damaged water meter or there is a leak at the meter, please contact Council.

Only Moree Plains Shire Council employees are authorised to work on Moree Plains' water and sewer networks. Our maintenance staff will visit the site, investigate the damage or fault, and make any necessary repairs or replacements.

If the damage or fault is not part of Council's infrastructure, our staff will discuss the issue with you and you will need to contact a licensed plumber.
Testing for Leaks on your Property by Reading the Meter
Do a leak self-test by turning off all the water-using appliances and taps on your property, this includes all internal and external taps including appliances, such as dishwashers, washing machines and any irrigation systems.

Go to the water meter - note the time and the black numbers (kilolitres) and the red numbers (litres) on the meter. Take another reading after 15 minutes and if the red numbers have changed, the test confirms there is a leak somewhere on your property.

However, you could have a slow leak and you may need to repeat the water meter reading test over a longer period, say over a few hours or overnight.

If the meter reading has increased, it is likely that you have leak on your side of the water meter, and you will need to investigate the issue further with a licensed plumber. If your plumber discovers a problem on Council's side of the water network, contact Council.

Dripping taps in bathrooms, laundry, kitchens and outdoors in the garden as well as leaking toilets, showers, hot water systems, air conditioning units and irrigation systems may not be obvious, however the consumption will add up over time and may show when a reading is taken over a longer period of time.

Moree Plains is renowned for the movement in black soil so check for damp concrete, paving and garden areas that may be moist and greener than expected, as there may be an underground leak that you can't see.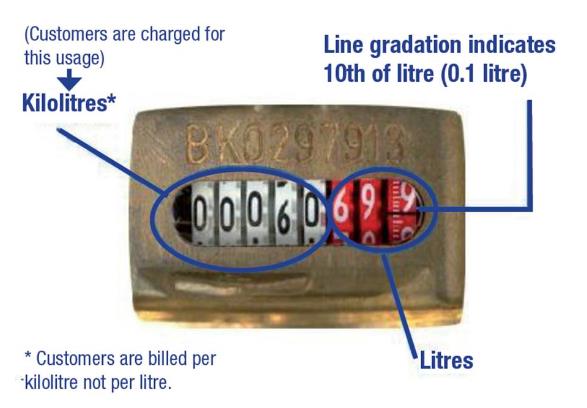 TIPS AND TRICKS
Taps - A dripping tap can waste 24,000 litres of water a year, and usually all that is wrong is a washer which needs replacing.
Toilets - Put food colouring in your toilet cistern. If it seeps into the toilet bowl without flushing, you have a leak. Fixing it can save up to 3,785 litres a month. A toilet cistern leaking at a rate of one litre per minute will add approximately $1,340 to your annual water charge, based on last year's water charges. If the water usage threshold has already been met, this figure will increase.