Aboriginal Artwork Flies in Moree for Reconciliation Week
Moree Plains Shire Council is celebrating Reconciliation Week by flying a contemporary Aboriginal artwork by local artist David "Crocket" Craigie.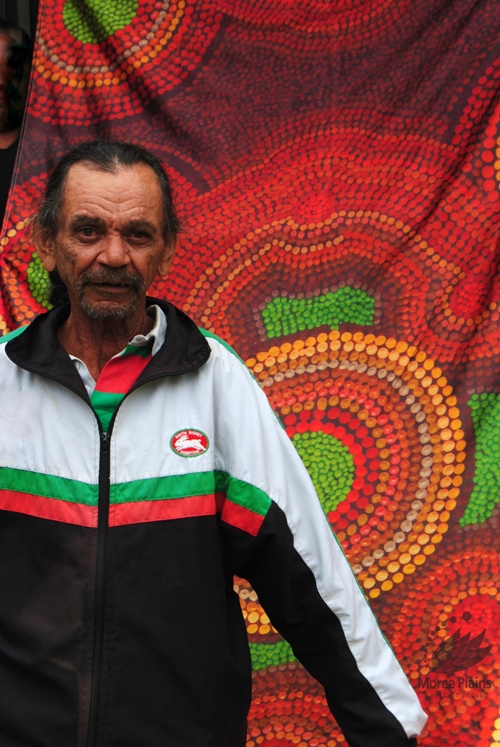 The original artwork titled My Country tells the story of the artist's connection to the Moree Plains and how he sees how the community has evolved to become a multicultural community that embraces so many people.
Crocket, as he likes to be known, has five circles as his artist's signature. The middle circle represents Kamilaroi land with Moree as its centrepiece. The four outer circles are the corners of the world. Peoples from all nations, come across Mother Earth to the black soils of Kamilaroi country under the Great Southern Sky.
"You might say that the tribes from all nations are drawn to Moree for the waters that heal and feeds us, and the fertile soils that produce food and fibres. Together, here in Moree, we become one multicultural community using what Mother Earth has provided to us," said Mr Craigie.
Mr Craigie is one of a number of talented Indigenous artists attending Moree TAFE's Aboriginal and Torres Strait Islander Cultural Arts class headed up by Lizzy von Gavel. Students are involved in a variety of artistic mediums including masonry, screen-printing, mosaic, woodwork, sculpture and paint.
Flags have been installed in Moree's CBD as part of the community's celebrations of its achievements towards reconciliation.
"It is great that my design was chosen to be made for a main street flag – it's very exciting," said Mr Craigie.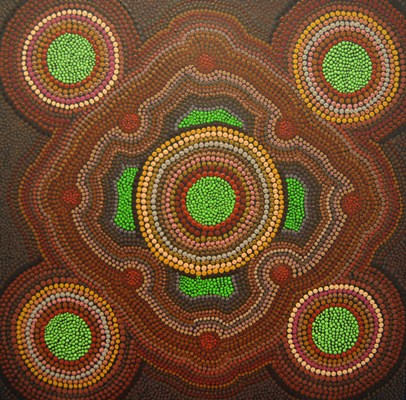 Crocket gives a wink and says "You know, the original artwork is for sale - bona fide piece of history!"
Council's Communication Officer Catherine Davis explained that Crocket is the fifth Aboriginal artist whose work has been reproduced as a main street flag for the community.
"Moree has many talented Indigenous artists and their art is important to the culture and identity of the people in our Shire.
"The visual story of My Country makes this a perfect design for flying in the main street during significant celebrations such as Reconciliation and NAIDOC Weeks," said Mrs Davis.
Council adapted Mr Craigie's My Country original artwork to fit the flag specifications. 
Photography;
1. Local artist David 'Crocket' Craigie's signature cicular design has been immortalised as flags flying in the main street of Moree. He is excited that his design was chosen to fly in Moree's CBD during significant celebrations such as Reconciliation Week and NAIDOC Week.
2. Original artwork – My Country – was adapted to fit the flag specifications for Moree's main street. The arylic on canvass artwork is for sale from the Gallery at the Moree TAFE - $1000