Tinker Table Crafts Moree Plains' Future
Over the past few weeks, Moree Community Library has invited younger members of our community to join in experiments and channel their inner 'Mister Maker' with art and craft at the Library's Tinker Table.
With so many inspired youngsters, it was the perfect opportunity to discover what they might have in mind for our Shire over the next 10 years. So on Monday, the Tinker Table was hijacked, with children asked to "paint their version" of Moree Plains' future.
And it seems Moree Plains' future is extremely bright – and diverse – with some of the ideas from this group of very important stakeholders including:
A local zoo featuring a rainbow unicorn
Creation of Moree Beach
Watching Moana at Moree's moonlit cinema on Ron Harborne Oval.
While some of the wonderful ideas from Monday's Tinker Table might seem truly impossible in 2017, many community members will remember when the Moree Bypass was just an idea too.
Over the next few months, Council will be providing plenty of opportunities for community members to SPEAK UP and share with us your ideas and aspirations for our Shire as we review our current Community Strategic Plan. Your ideas will help guide our new Councillors in developing their priorities for the next 4 years.
In the coming months, we encourage community members to get involved:
Complete a SURVEY
Attend our COMMUNITY WORKSHOPS
Register for a FOCUS GROUP MEETING
Encourage your kids to participate in our SCHOOL-AGED ART COMPETITION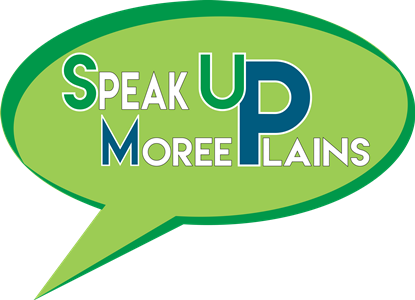 Council's Integrated Planning and Reporting Manager, Libby Carter commented, "It's a really exciting time for the Moree Plains community. Over the next few months, there will be plenty of opportunities to have your say in shaping our future and helping Councillors prioritise our resources to deliver the services you really want.
"We have a new Council who are genuinely interested in the community's ideas. It really is the time to Speak Up Moree Plains to provide Councillors with guidance in putting together the community's plan for the future."
For more information or to register your interest in being part of our focus groups, email us at This email address is being protected from spambots. You need JavaScript enabled to view it. This e-mail address is being protected from spambots. You need JavaScript enabled to view it or call Council on 6757 3222.
Look out for our Speak Up Moree Plains icon!