Christmas Message From the Mayor and General Manager
One thing we tend to all have in common at this time of year is that feeling that the year has flown by quicker than the last. And what a year it has been!
After being declared 'Fit for the Future' in response to the Local Government Reform process instigated by the NSW Government, the Councillors and staff of your Council are committed to maintaining this status as we see this as fundamental to the services we deliver to the community. To this end, we are working hard to demonstrate our sustainability and desire to stand alone.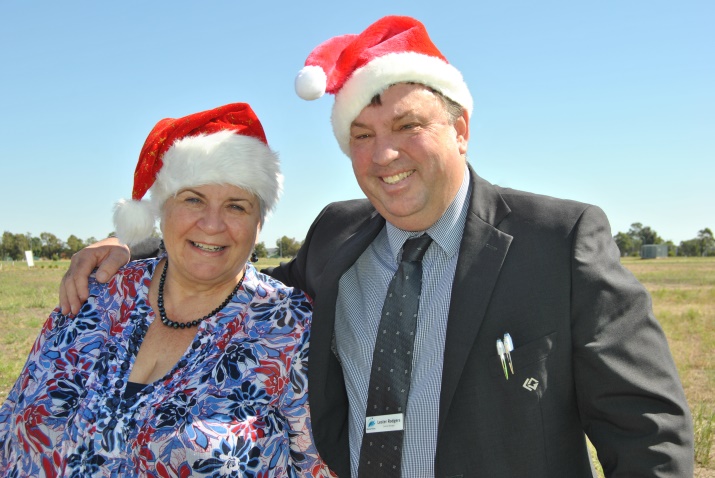 Mayor Cr Katrina Humphries and General Manager Lester Rodgers wish the community of Moree Plains a joyful and safe holiday season.With the sod turning ceremony for Puma Energy at the Gateway as well as the openings of both the Moree Water Park and the Moree ANZAC Centenary Memorial, we are seeing some of our projects really come to life.
Our Council continues to be awarded by the IPWEA for our exemplary compliance as part of the Heavy Vehicle Forum and are a leading example for our permit system. We are proud of the achievements of our Council for this year but look forward to new challenges for 2017.
There's no better time than Christmas to wind down, relax and enjoy spending quality time with family and friends (two and four legged!)
If you are travelling, please take care. Be patient, slow down and pull over, take plenty of breaks and come back safely to your friends and family on the plains. Make sure you notify your neighbours so they can keep an eye on your property while you are away and check on your animals. Pets need plenty of water and access to food on a daily basis and should be secured during the 9pm New Year's Eve fireworks event.
Thank you to all those who have put in a lot of time and effort in celebrating the season with lights on their homes and businesses – it's lovely to drive around at night!
From all the Councillors, management and staff at Moree Plains Shire Council, we wish you and your family a joyful and safe holiday season, and I look forward to a fantastic 2017.