Level Crossing Upgrade Tycannah Street Moree NSW December 2016
Improving the Country Rail Network
Transport for New South Wales (TfNSW) is undertaking rail line renewal works and upgrading the level crossing at Tycannah Street, Moree as part of the NSW Government's Fixing Country Rail program across the state.
Works are being completed by TfNSW's contractor, John Holland Rail (JHR). JHR operate and maintain the Country Regional Network across NSW under a ten year contract with TfNSW.
When will work commence?
Works on the rail line renewal is currently scheduled to commence on 28 November 2016 and is expected to be completed by the end January 2017, subject to final approvals and weather conditions.
Site operations will run from:
• Monday to Sunday – 7:00am to 6:00pm
No work is planned during the Christmas-New Year holiday period.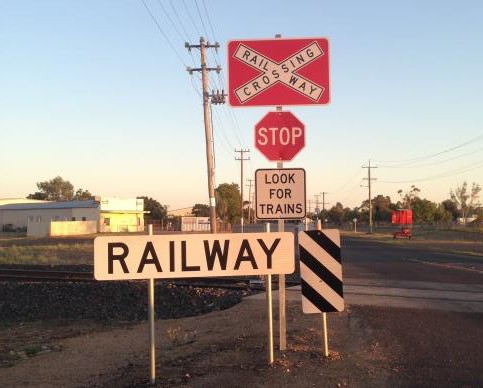 Tycannah Street level crossing
Once the level crossing is upgraded in December 2016, the 'GIVEWAY' sign at Tycannah Street level crossing will change to a 'STOP' sign (see below left).
To ensure your safety, please follow the new road signage once installed and 'STOP' before the Tycannah Street level crossing to check for trains. Once the rail line renewal work is completed in January 2017, trains will once again use the line.
How will I be affected?
There may be some noise and extra vehicle movements associated with this work however we will endeavour to minimise disruption wherever possible.
There will be 24 hour works for some of the construction period to minimise disruption to the community. Nearby residents will be notified closer to the date.
For more information?
Residents are encouraged to contact our Community Relations team on 1300 661 390 or email This email address is being protected from spambots. You need JavaScript enabled to view it. This e-mail address is being protected from spambots. You need JavaScript enabled to view it if you would like further information.