Australian Citizenship Day Celebrated With Ceremony For Six
As part of the anniversary of the renaming of the Nationality and Citizenship Act 1948 to the Australian Citizenship Act 1948, six people were sworn in as Aussies at Moree Plains Shire Council on Thursday 14 September 2017.
Hosting a citizenship ceremony is one of the key highlights for Cr Katrina Humphries in her role as Mayor and she welcomed the new Australian's who hail from India, South Africa, United Kingdom and Vietnam.
"I am very proud to welcome you all to Moree Plains and into our rich and diverse community," she said.
"Today's ceremony is an important opportunity for all Australians, whether they are citizens by birth or by pledge, to come together to acknowledge what's great about Australia and being Australian," said the Mayor.
Australian Citizenship Day is celebrated annually on 17 September. It provides a great opportunity for all Australians to take pride in their citizenship and to reflect on the meaning and importance of being Australian.
The Mayor presented the conferee's with copy of the Council's coffee table book In Plain View and a native tree as symbols of new beginnings, new experiences and for a prosperous, happy and fruitful life in Australia.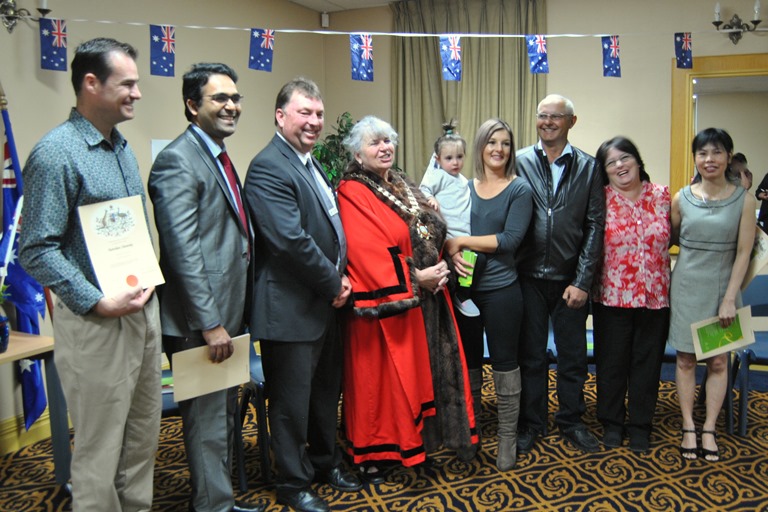 Photograph: (rear l-r) Grant Van Rooyen, Vasif Abdul Latheef, General Manager Lester Rodgers, Mayor Cr Katrina Humphries, Aila and Sandy Erlank, Jimmy and Jennifer Erlank, and Xuan Nguyen.