Business Registrations Now Open For 'Free Cuppa' 2018
Organisers of the award-winning 'Free Cuppa for the Driver' scheme are now inviting local businesses to register for phase eight of the successful driver fatigue awareness campaign which will operate from 1 March to 31 May 2018.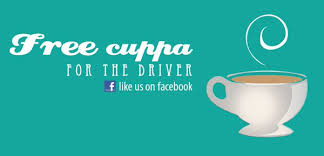 The scheme encourages visiting drivers to stop at participating businesses for a free cup of tea or coffee so as to take a break from driving long distances.
Now in its eighth year, the scheme sees partnerships formed between participating councils and local businesses. The councils provide the marketing and resources while the businesses provide the free tea and/or coffee.
Moree Plains Shire Council's Road Safety Officer, Renee McMillan, says that the scheme is a win for everyone involved. It's a win for road safety as drivers take a rest break, a win for local villages, towns and cities as they attract increased visitors and a win for businesses who attract increased customers.
"Past years saw participating businesses reporting an almost 30% increase and with almost three-quarters of vehicles participating in the scheme containing two or more passengers it was clear that other purchases were evident above their free cuppa," Mrs McMillan said.
"The scheme will be operating in at least 24 local government areas within Western and South Western NSW stretching from the Victorian border to the Queensland border. The vast area comprises highways like the Castlereagh, Gwydir, Golden, Great Western, Hume, Mitchell, Newell and Oxley which drivers use for work, holidaying or touring," Mrs McMillan said.
Since its inception in 2010, the 'Free Cuppa for the Driver' scheme through its 256 participating businesses has given away 6,784 free cuppas throughout 187 cities, towns and villages in NSW.
"There were 5 participating businesses in Moree and Mungindi during phase seven last year and at this early stage we have already received enquiries from local businesses wanting to register. In phase eight we'd love to welcome even more businesses" Mrs McMillan said.
The closing date for phase eight registrations is Friday 6 October 2017. If your business would like to participate in the 'Free Cuppa for the Driver' scheme then please contact Renee McMillan on 02 6757 3277 or email This email address is being protected from spambots. You need JavaScript enabled to view it.