Operation Fortia - Cover Your Load
Moree Plains Shire Council and the Barwon Highway Patrol - Traffic and Highway Patrol Command are working together on "Operation Fortia" to target load restraint issues for both light and heavy vehicles and related trailers, focusing, in particular, on unsecured and uncovered waste loads.
"Operation Fortia" is in operation now until 31 December 2017.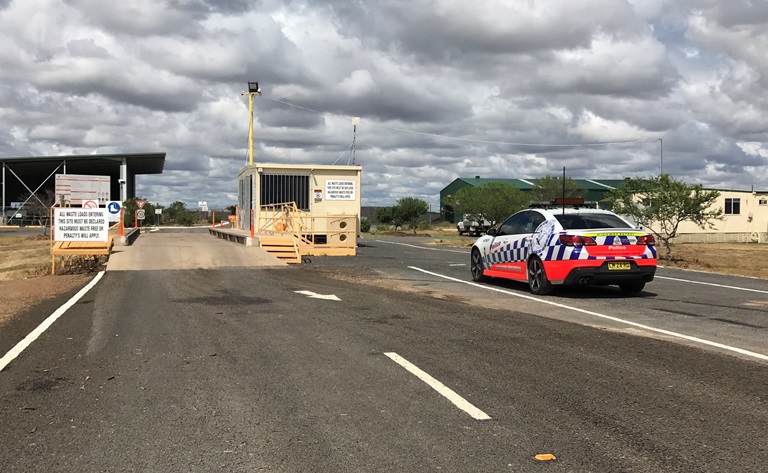 Council's Acting Waste Manager Tahra Sayers explained all trailer and vehicle loads must be covered with a tarpaulin or mesh, and properly secured for the safety of other road users, and to prevent littering.
"Anything loose in an open tray back, truck or trailer poses a major safety risk to other road users as unsecured items fall off causing hazards and road debris."
"Items that are not retrieved become roadside litter, impact on flora and fauna, and have the potential to enter local waterways and wetlands," she said.
Securing your load is not just about making sure that the load does not come off. It is also about making sure that the load does not shift in a way that makes the vehicle unsafe to handle or allows the load to crash into the driver's cabin, which may cause injury or death.
When transporting anything on the back of trucks or trailers such as garden refuse, furniture, implements, toolboxes and eskies, tie down the load or use webbing or straps to restrain items.
Drivers caught with unsecured and uncovered loads could be issued with a $439 fine and lose three demerit points.
Senior Constable Kross from Barwon Highway Patrol advised, "The security of your load, your life and the lives of others relies on proper load restraint."
The National Transport Commission and Roads and Maritime Services New South Wales, Load Restraint Guide (LRG) provides transport drivers, operators, and other participants in the transport chain of responsibility with basic safety principles which should be followed for the safe carriage of loads on road vehicles. The Guide can be found at www.ntc.gov.au/heavy-vehicles/safety/load-restraint-guide/
Individuals who are caught dumping rubbish illegally can receive a fine ranging from $750 to $4000 while corporations will receive fines from $1500 to $8000.
The Moree Waste Management Facility has free disposal for sorted household waste – just make sure you secure your load on the way out to the landfill.
For further information contact: Tahra Sayers on (02) 6757 3222.