A Step Closer Towards Civic Redevelopment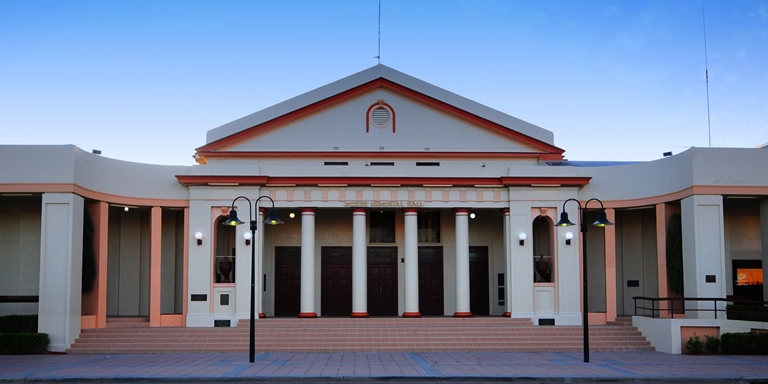 Moree Plains Shire Council is a step closer towards the redevelopment of the Moree Civic Precinct with the announcement that its Expression of Interest application under the Regional Cultural Fund has progressed to the next stage of the NSW State Government's Regional Growth Fund.
The $100 million Regional Cultural Fund supports local communities to create bold and exciting arts infrastructure reflecting the rich diversity of regional areas, with up to $25 million available in the first round of funding.
Opened in 1923, the Moree Civic Precinct (which includes the Moree Memorial Hall, Banquet Hall, Moree Community Library, kitchen, building facade and amenities) has long been Moree's flagship cultural venue, and the home of the arts for the region. However, it is in need of redevelopment to satisfy the more modern requirements of theatrical and dance groups, visiting stage shows, training and educational requirements, expo and conferences and community use.
The Moree Civic Precinct Redevelopment project will provide much needed upgrades to ensure that this majestic building can continue servicing the community well into the future.
The goals of Stage One of the Project will be to improve the building's functionality and amenities; including installation of a Heating Ventilation and Air Conditioning (HVAC) system, fitting LED lighting and acoustic systems, new staging and rigging infrastructure, and improved disability access with lift and refurbished bathroom facilities, valued at approximately $2.4 million.
Stage One the project does not include a cinema.
Moree Plains Shire Council is strongly committed to the preservation of the iconic Moree Civic Precinct pledging $1,219,253 in cash co-contribution towards the Project.
In preparation for the Stage Two of the Regional Cultural Fund application process, Council will be required to submit a detailed business case, cost benefit analysis, detailed designs and associated approvals, and a detailed funding application. The deadline for this submission will in April 2018.