Tech at Twilight – Moree Community Library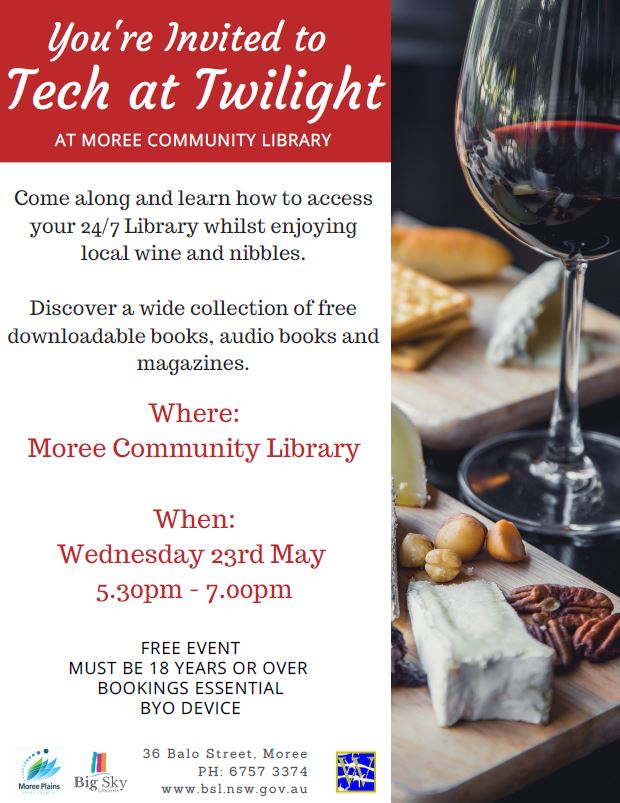 A wine and cheese evening will be hosted by the Moree Community Library as part of its Library and Information Week event held on Wednesday 23 May 2018 between 5.30pm-7pm.
The Tech at Twilight event will showcase the wide collection of downloadable books, magazines and audio books that members can freely access 24 hours a day through Big Sky Libraries online channels.Cooperative Library Manager Sally Walters explained the Tech at Twilight event is a great way to meet other people and learn how to access the Library's free downloadable e-Books and e-Magazines.
"Our 24/7 online access is a great resource for busy people, travellers and for those who beat the pavement – anytime and anywhere!" said Mrs Walters.
"Woolaway Wines are providing an array of beverages and our staff will be on-hand to guide people through the process of setting up their device so they can have 24 hours access to their favourite magazine or book."
The Moree Community Library's Tech at Twilight is a free event just bring your device and a few friends! Attendees must be aged over 18 years old. Bookings are essential for catering purposes – phone the Library on 6757 3374.