Moree Plains Celebrates 'Christmas in July' with a Donation from Sutherland Shire
The streets in Moree won't be a dull affair this Christmas after receiving a half shipping container load of commercial Christmas decorations from Sutherland Shire Council.
Late last year, Moree Plains Council's Urban Advisory Committee (UAC) began to address the lack of visual presence of Christmas in their main street, only to realise ornaments and lighting needed for the festive period far exceeded Council's budget.
The UAC Committee then decided they would reach out to a city Council to see if anyone could lend a helping hand in donating commercial Christmas decorations.
Under the banner of 'reuse, reduce, recycle' Sydney-based Council, Sutherland Shire agreed to donate their used Christmas decorations to Moree Plains Shire Council and drive the 650km to deliver them.
Moree Plains Deputy Mayor and UAC Committee member Councillor Stephen Ritchie explained the initiative had a number of outcomes in mind.
"This idea ticked some of Council's organisational objectives outlined in the Moree Plains Community Strategic Plan, including building relationships between Council and community, Shire liveability and it also demonstrates our environmental stance of recycling," Cr Ritchie said.
Similarly, the initiative also met some of Sutherland Shire Council's Community Strategic Plan outcomes about being a caring and supporting community and with this in mind, as well as similar views on recycling and sustainability, there was no hesitation in deciding to donate decorations.
The Mayor of Sutherland Shire, Councillor Carmelo Pesce said, ""As soon as Moree Plains contacted us, we started thinking about what we had that we could donate to this great little town and our country cousins."
"We were not far from renewing some of our commercial decorations so our Traffic and Public Domain Services team started gathering some garlands, wreaths and a big Christmas tree and packaged them up ready to head to their new home."
"We know that our residents value a sense of community and we want to share that, while also enhancing the connection between our two Councils," added Mayor Pesce.
"That's why we are proud to be able to extend this festive donation to the people of Moree Plains and we wish everyone up there a happy 'Christmas in July'."
Moree Plains Communications Officer Catherine Davis put forward a strategy to partner with a city Council and develop a relationship with them where they donate their decorations to their country-Council-cousin.
"We are really excited with the donation and appreciate the generosity from Sutherland Shire to help in our efforts to decorate the public buildings in the main street of Moree during the festive period," said Mrs Davis.
The donated decorations include; 25 x 2.4 metre Christmas garlands, 20 x 90 centimetre Christmas wreaths, 4 x 90 centimetre Christmas wreaths with indoor fairy lights and one impressive 4.2 metre Christmas tree with a red border fence.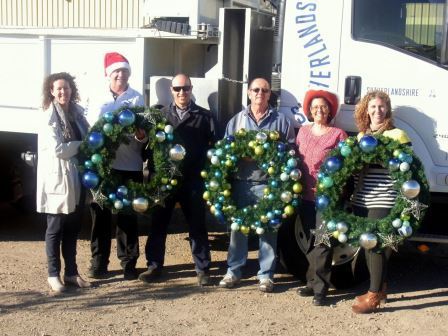 Photograph Caption: (l-r) Dibs Cush – Moree Chamber of Commerce, Michael Thompson – Sutherland Shire, Murray Amos – Moree Plains Shire Council, James Pritchard – Moree Urban Advisory Committee, Catherine Davis – Moree Plains Shire Council and Jeni Bruno – Moree Urban Advisory Committee