National Garage Sale Trail - Powered by Council 
Moree Plains Shire Council is pleased to announce it is hosting a giant community garage sale this year on Saturday 20 October at Jellicoe Park, in participation with the National Garage Sale Trail campaign.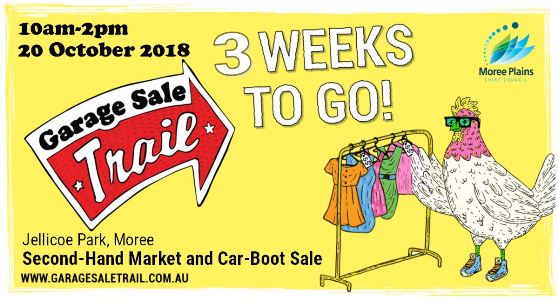 Council's Waste Support Officer Dayna Kross explained the Garage Sale Trail is Australia's biggest community and sustainability event which helps people to think about how we can all take responsibility for the waste we create and ensure useable items don't end up in landfill.
"Residents are more conscious about waste and understand their role in reducing it, so supporting the Garage Sale Trail is a simple way to bring communities together, reuse and rethink the idea of what waste really is."
"The best thing is it is free to be part of the Trail and you get to keep all the proceeds! So declutter and make some money by hosting a stall at the Second-Hand Market and Car-Boot Sale," she said.
Anyone can be part of the Garage Sale Trail campaign and once you register, there is free advertising and help through http://www.garagesaletrail.com.au/sale/1366.
Households, community groups, schools, charities and even community-minded local businesses are welcome to setup a stall at the second-hand market and car-boot sale and sell unwanted items and equipment from the boot of a vehicle, back of a truck or trailer or a marquee stall setup at Jellicoe Park.
To follow the trail and grab a bargain, you can subscribe to the website and get updates or search the local area sales.
The initiative is run by Australian not-for-profit Garage Sale Trail Foundation. The event exists to create positive social and environmental change in communities across Australia.