Bargains Galore For Savvy Shoppers
Over 20 stall holders will be at the inaugural Moree Second-Hand Market and Car-Boot Sale at Jellicoe Park from 10am-2pm on Saturday, 20 October 2018.
There will be bargains galore for savvy shoppers from the nearly new to gently used clothing, shoes and accessories for women, men and children, along with toys, knick-knacks and other things you didn't know you needed until you've seen them!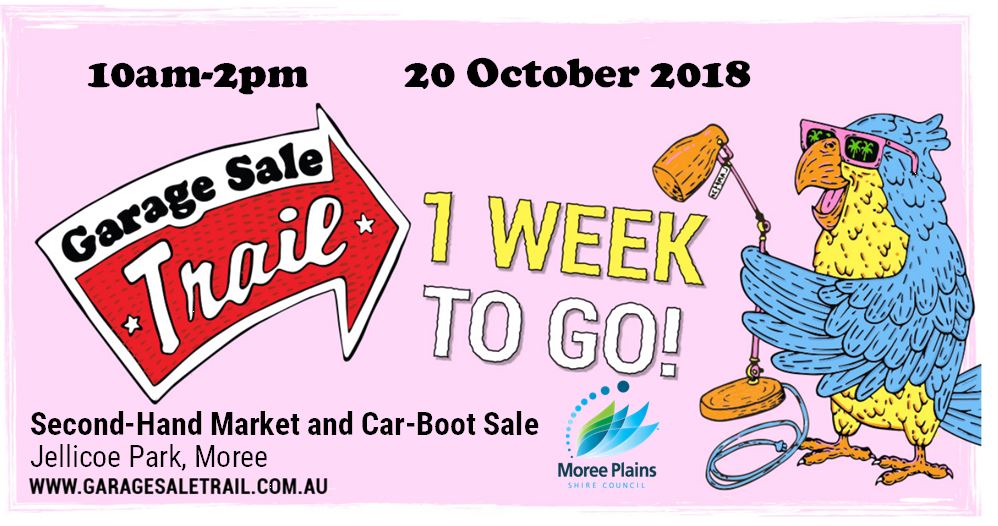 Moree Plains Shire Council has joined the national Garage Sale Trail and is hosting the Second-Hand Market and Car-Boot Sale for all community members to join as stallholders or shop for treasures on Saturday, 20 October at Jellicoe Park, Moree from 10am-2pm.
"The idea behind the trail is to support reuse as the best option for people's unwanted items so they don't end up in landfill," said Council's Waste Support Officer, Dayna Kross.
"It is free to host a stall at the sale this weekend, which is the perfect opportunity for people to have a clean out, or even to find some treasures from other stallholders.
"We are hopeful this will be a success and become an annual event so we invite everyone to join and be a part of this valuable nationwide campaign."
Online registrations are open until this Friday so visit http://www.garagesaletrail.com.au/sale/1366 and click on the "join this sale" button and filling out the online registration form.
For more information about Moree's biggest garage sale, contact Council's Waste section on (02) 6757 3222.