However, the collection truck won't be driving up and down the streets looking for waste piles and households must register their addresses with the Waste Hotline on 1300 736 719, email: This email address is being protected from spambots. You need JavaScript enabled to view it. or on the bulky waste booking tab at http://moreeplainsshire.cleanaway.com.au/collection-calendar in order to ensure that their waste pile is collected.
Households in Moree and the surrounding area including Gurley, Gwydirville and Bendygleet, must register with the Waste Hotline by Friday 1 March 2019 for the collection that begins Monday 4 March 2019.
Households in villages and surrounding areas including Ashley, Biniguy, Boggabilla, Boomi, Garah, Mungindi, Pallamallawa, Vitonga Road, Weemelah and Yarraman must register by Friday 8 March 2019 for pick-ups beginning Monday 11 March 2019.
Moree Plains Shire Council offers two free scheduled Bulky Waste Collections each year - one in March and one in August to households that receive a weekly kerbside wheelie bin collection service. Those residents not receiving this service can take household waste to the Moree Waste Management Facility and dispose of sorted domestic waste for free.
All households with a kerbside wheelie bin collection service should have received an information flyer in their mailbox with specific details about the bulky waste collection, alternatively, information can be found on Council's website and Facebook page.
To prevent wind-blown rubbish from spoiling the environment and public safety, please don't start piling items on the kerb until the weekend before the collection.
T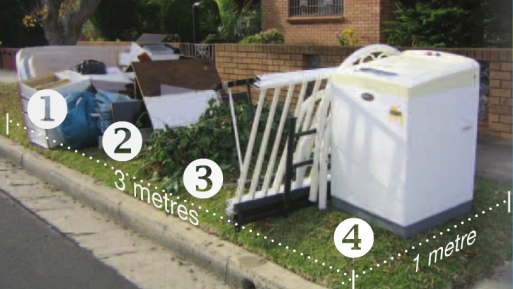 he items you put on the kerb are recycled where possible but mostly they will end up going directly to landfill, hence where possible Council encourages residents to consider re-homing items by selling, donating or giving them away.
On the weekend before the collection starts, separate and stack items into piles on the kerb.
1. Large items
2. General Household Waste
3. Green waste
4. Metals, white goods (remove doors) and E-waste