Despite exhaustive attempts to educate the community on how to sort waste in the appropriate bin and the implementation of a three strikes and you're out Bin Contamination Policy, the issue is mounting in all areas of the Shire.
On average, one in three truckloads of what should be recycled waste is currently having to be dumped into landfill.
"It is so tragic to see perfectly recyclable goods dumped in landfill due to contamination of the loads with items such as dirty disposable nappies, plastic bags, tree prunings and syringes," said Cr Humphries.
"We are proud of our natural environment here on the Plains, and yet we are just not looking after it when it comes to household waste."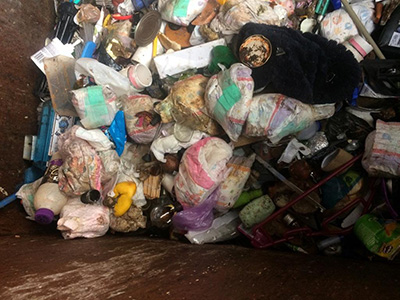 Council is pleading with the community to do their bit and show greater care when sorting waste by taking a second to think before they throw.
Council's Waste Manager Tahra Sayers went on to explain, "people may not realise that by quickly shoving a few items in their recycling bin that shouldn't be there, that their thoughtlessness can eventuate in a whole truckload of waste going to landfill".
"It only takes two bins with significant contamination to ruin the whole load."
"The sorting of recycled waste is done by hand by a dedicated team at Challenge Disability Service in Narrabri. The team take great pride in their work, but cannot be expected to sort through dirty nappies, rotting food scraps and syringes, hence contaminated loads are unfortunately diverted to landfill."
The Challenge team have also shared their heartfelt plea with the community to take greater care with sorting recycling, as can be seen in a short video featuring the workers themselves
Cr Humphries added that if this pattern of contamination continues, it will come at great cost, "we desperately need the community to take ownership of this issue."
"We are fortunate to have a three bin waste system here in the Moree Plains – many city councils and other rural and regional councils do not provide this level of service to their communities. "
" That is a cost that I am just not comfortable with. So I urge all residents with a waste service, please take the time to think before you throw."
How can you help?
Think before you throw, and choose the right bin every time.
A comprehensive guide on choosing the correct bin for each type of waste can be found:
on the Moree Plains Shire Council Waste App, downloadable from the App Store and Google Play
on the MPSC website , and
printed on the top of each kerbside waste bin
There are also some basic rules that you can follow when it comes to sorting your waste:
Recycling (yellow lid) bin:
cardboard boxes and cartons
paper
glass bottles and jars
plastic bottles and containers
All items should be thoroughly rinsed prior to placing in the yellow bin.
Note: soft plastics cannot be processed in our recycling collection service, however these can be recycled at both Coles and Woolworths Moree. If you can scrunch it, leave it out of the yellow bin.
Food and organic waste (green lid) bin:
all food waste
used paper towels/napkins/tissues
used tea bags
garden cuttings and prunings
General waste (red lid) bin:
All your residual waste that can't be recycled or composted, such as
Food Wrappers – Chip packets, chocolate wrappers etc.
Coffee Cups
Plastic bags
Foam
Plastic cutlery
Photograph: Non-recyclable waste found in Moree Plains' kerbside recycling collection.