Long-Term Investment in Water Infrastructure Ensures Secure Supply for The Plains
Recent rainfall in the New England North West region may have sadly skipped over a large portion of the Moree Plains Shire, yet in spite of this Moree Plains Shire Council continues to supply its towns and villages with an unrestricted supply, thanks to the security of its aquifers and Council's long term investment in water infrastructure.
Currently restrictions across the region range from permanent water conservations measures in Goondiwindi and Narrabri Shires, to level three restrictions in Armidale, and recently imposed level four restrictions in Tamworth. Yet residents of the Moree Plains have benefited from unfettered access to town water supplies.
Despite record breaking water consumption across the Shire over the summer quarter, Council is anticipating a drop in consumption over the cooler months and is not foreshadowing any plans to impose restrictions across the Shire.
Mayor Cr Katrina Humphries said, "sometimes we forget how fortunate we are to be living on top of an impressive system of artesian and sub-artesian water".
"We are still in the midst of one of the worst droughts on record and despite all our neighbouring Shires enduring some form of water restrictions, Moree Plains Shire Council continues to provide an unrestricted safe and secure supply to its residents.
"This is not only thanks to our aquifers, but also thanks to Council's long term investment in local water infrastructure that makes the most of our natural resources.
"And although we are not anticipating implementing restrictions across the Shire, we do still ask residents to be mindful of their water use as we do our best to manage this precious resource responsibly."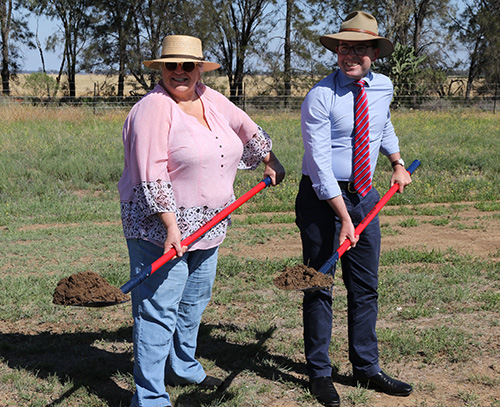 Across its towns and villages Council utilises a high security urban supply licenses to pump up to 4,234 megalitres from a combination of bore and river water annually, providing a potable supply to Moree, Boggabilla, Mungindi, Pallamallawa, Toomelah, and a non-potable supply to the villages of Boomi, Garah, Gurley and Weemelah.
The ability to provide a secure supply is dependent on a well maintained storage and pumping system, explained Council's Water Services Manager Roland Heatley.
"We may have the benefit of reliable bore water, however getting it from the highest volume bore sites across our flat country and to the end user requires an extensive pumping and storage system.
"To combat wear and tear of the hard water on our infrastructure and deliver consistent supply, Council has committed to a $3.3m annual water main renewal program as well as a Clean and Inspect maintenance program to ensure that all of our water infrastructure is thoroughly checked and maintained every 3-5 years.
On top of renewals and maintenance of its current network, Council has also been extending and shoring up potable supply across the region through a number of projects funded under the NSW Government's Water Security for Regions program, including:
- $4.57m fully funded Boggabilla-Toomelah Bi-directional Pipeline (completed 2018)
- $3.96m fully funded Biniguy Potable Water Project (expected completion mid 2019)
- $4.13m fully funded Ashley Potable Water Project (subject to community consultation)
- $3.12m 50% funded Moree Water Supply Project, increasing capacity of the Moree network for industrial and domestic demand (scheduled for commencement in 2020)
"Our water is part of what makes the Moree Plains unique, and Council is committed to making the most of it so that our communities and local economy can prosper", said Cr Humphries.
Photograph: Mayor Katrina Humphries and Member for Tablelands, Adam Marshall at the SOD Turning of Biniguy Potable Water Project.