Council an Employer of Choice for Young Professionals
Since the last census, Moree has registered a small population growth – the first in many years. It has emerged that Moree is part of a growing trend seen nationally; of young people taking advantage of professional opportunities and the affordable lifestyle that working regionally presents.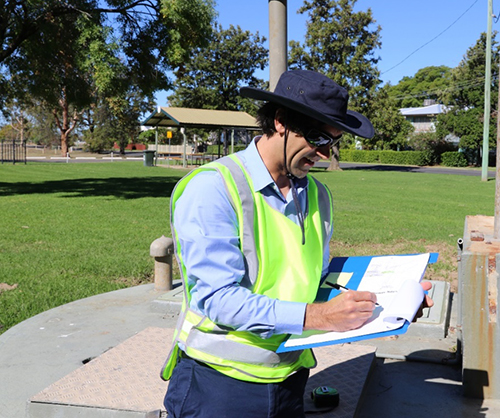 Kenan Aydogan has done just that and traded a beach lifestyle in Perth for the hot artesian waters of Moree. Relocating a few short months ago, Kenan joins Moree Plains Shire Council's team as the Technical Officer of Water and Waste Water and has both a Bachelor of Civil and Construction Engineering and a Bachelor of Science.
Professionally, the position with Moree Plains Shire Council allowed Kenan an opportunity to take the next step in his career and gain transferrable skills valued by larger sized enterprises.
Having worked as an undergraduate engineer for the City of Melville in Perth, as an engineer for the Water Corporation WA and as a Project Engineer in private construction, Kenan was seeking an opportunity to upskill that working for New South Wales Local Government could provide.
"After I attained some construction experience I now utilise my knowledge and skills from all previous roles in line with my educational career," explained Kenan.
Working previously in Karratha, Kenan fell in love with small town living; the convenience of being able to walk to work, the friendly people and the sense of community spirit.
"I have a really positive perception of the rural lifestyle from former experience.
"Not being able to travel home on a Friday afternoon means you have to stay in the area and explore all of what the place has to offer.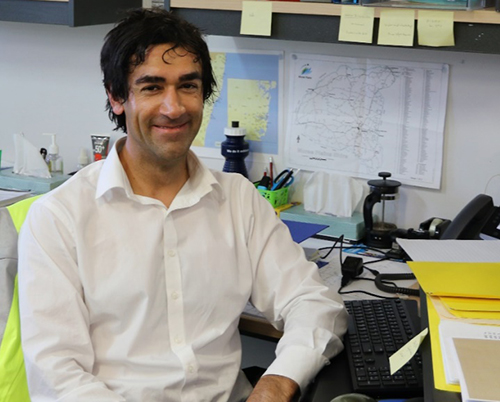 "I'm really looking forward to discovering the Eastern seaboard. I've already travelled to Brisbane for the first time and I have Toowoomba and Tamworth next on the list," Kenan said.
Passionate about health and fitness, Kenan values the quality recreational, social and lifestyle opportunities that Moree has to offer.
"I've taken part in two mini triathlons, there's a great boxing class and I often walk to the Aquatic Centre for a swim and a soak.
"There's always plenty to do."
And while Council is delighted to have such a talented engineer in their ranks it is Kenan who is full of praise for his co-workers.
"There's a great culture of communication and collaboration between departments and everyone has been so nice and social.
"The only thing I have found difficult about the move is adjusting to the time difference," laughed Kenan.
"It's been a really positive experience so far."
Council currently has a number of other positions available which can be viewed on our website. For more information, follow the web link or contact Council's Human Resource department on (02) 6757 3222.