Council Encourages Local Suppliers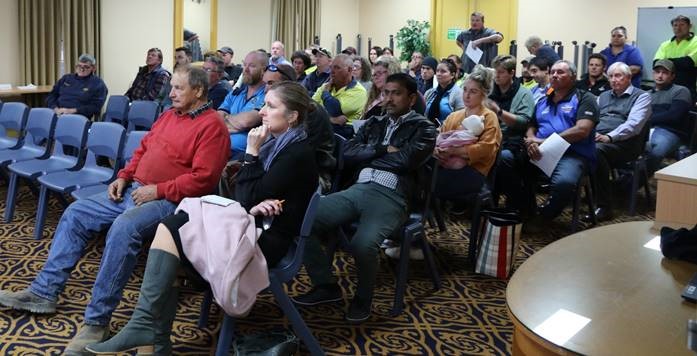 In late June, Moree Plains Shire Council held an information session for local contractors to assist those considering bidding to become preferred contractors for work not able to be done by Council staff. Businesses selected as part of this process will be on the preferred list for three years, which avoids the costs of having to quote for many jobs. Instead, contractors would generally be selected in rotation ensuring a wider spread of work amongst local firms.
The session was also of benefit for contractors who want to bid for Council infrastructure projects and who wanted to become more familiar with online tendering systems. These systems are now common and skills learned will open up business opportunities for local suppliers both within the Shire and beyond.
Over fifty attendees came on the night which covered how to:
register for receiving online requests for quoting and tendering through VendorPanel (the online system used by Council);
review, assess and respond to procurement documents; and
understand how to maximise business opportunities not only with Council but with other groups and organisations.
VendorPanel is used by Council, as well as hundreds of other organisations, to simplify the quotation or tendering process and to increase transparency and compliance. Most importantly for local businesses, once registered their details are in the system and requests from Council and other organisations simply turn up in their inbox. This avoids the weekly chore of wading through newspaper classifieds, and reduces the risk of a business missing work opportunities.
For contractors already registered on VendorPanel, Council's current bidding round for preferred contractors will close towards by the end of July. Council encourages businesses not already registered as a supplier on VendorPanel to register as Council will open up a second round of bidding for preferred contractors later in the year.
For local businesses looking to register as a supplier for VendorPanel:
Go to vendorpanel.com.au/marketplace.aspx registration page
Chose the relevant business category(s)
Enter your business name and contact details
An invitation will appear in your email to join VendorPanel
Complete your business profile (once registered, suppliers are visible to purchasing staff)
Moree Plains Shire Council's Director of Planning and Community Development Angus Witherby is encouraging local suppliers to register on VendorPanel.
"With over $23 million in capital projects to deliver over the coming year or so, and a substantial building maintenance budget, Council will be looking for outside assistance to help us deliver these projects and keep Council's assets in the desired condition.
"Now more than ever, it is critical for these funds to be retained in the Shire, wherever possible. I would encourage local businesses to firstly register with VendorPanel and then throw their hat in the ring to undertake works," said Mr Witherby.
"In addition to Council projects, major projects like Inland Rail use online bidding systems for sub-contracting works and this is an excellent opportunity for local suppliers to get a foot in the door.
"We were very happy with the turnout for our information night and hope it's a major step towards keeping dollars in our local community", said Mr Witherby.