National Tree Day - Pallamallawa Sunday 28 July 2019
This Sunday 28 July 2019 is National Tree Day. Join Council at Pallamallawa cemetery from 10am to midday where we will be planting 24 bottle trees.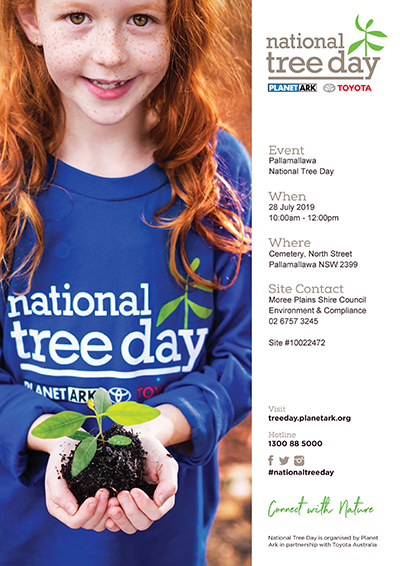 Council's Environment and Compliance Manager, Mr Dane Graham explained that it should be a great family friendly morning, which will culminate in a BBQ to thank all participating volunteers.
"National Tree Day provides us with a great opportunity to make a positive impact on our local environment" said Mr Graham.
"We have scouted locations and decided that this year we will be concentrating our efforts on the Pallamallawa Cemetery, and we encourage as many community members to come down and participate in beautifying the township of Pallamallawa and improving the environment for future generations."
Volunteers are asked to bring shovels, hats and gloves, and they will be rewarded for their hard-earned efforts with a BBQ, a reusable drinking bottle and cap.
For more information please contact Moree Plains Shire Council's Environment & Compliance Section on 02 6757 3245; or visit https://treeday.planetark.org/site/10022472 to pre-register your interest.
Note:
Pre-registration not mandatory but can be completed on the link above
All participants (volunteers and council staff) will need to register on arrival at the location