Heritage Improvements coming for Moree CBD
The heritage aesthetic of the Moree Central Business District (CBD) will be further enhanced with Moree Plains Shire Council recently awarding two grants through its Local Heritage Fund. This funding contributes to the positive appearance of significant heritage properties and in this instance will see the facades of two prominent buildings in Moree repainted in heritage colours.
Council recently called for applications through its Local Heritage Fund. This fund was set up with a grant from the NSW State Heritage Office and allows Council to locally deliver a small grants program to enhance Moree Plains' unique heritage features.
"Council received four very strong applications for this funding program from around the Moree CBD and Heritage Conservation Area," explained Council's General Manager, Lester Rodgers.
"The applications were presented to Council's Urban Advisory Committee at its recent meeting for their determination."
The Urban Advisory Committee is made up of representatives from the community and Councillors with significant experience in heritage matters and also attended by Council's specialist Heritage Advisor Sue Jackson-Stepowski.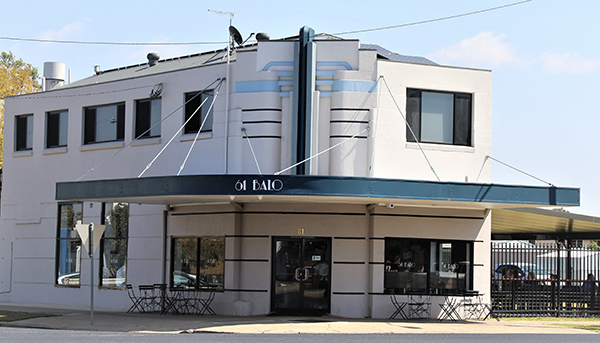 The Urban Advisory Committee approved funding for two projects for the current financial year which will see 74 Balo Street (premises recently acquired and renovated by Customised Farm Management in the building formerly occupied by Regional Australia Bank) and the Harvey Norman store at 103 Balo Street repainted with a colour scheme developed in consultation with Council's Heritage Advisor.
"These two premises have a significant presence in the CBD area," continued Mr Rodgers. "The refreshed facades will add value to the Heritage Conservation Area in Moree as well as providing a noticeable facelift in the CBD area.
"It is great to see that property owners in Moree Plains are considering the heritage value of their premises and taking steps to make improvements.
"Moree Plains has a strong heritage and proud history. Projects such as these will help see our history preserved for many years to come.
"Council looks forward to seeing these historic facades come back to life with help from the Local Heritage Fund."
In addition to these buildings, funding has previously been allocated out of the Local Heritage Fund for 61 Balo Street and 171-173 Balo Street.