Moree Plains' Innovative Water Project Showcased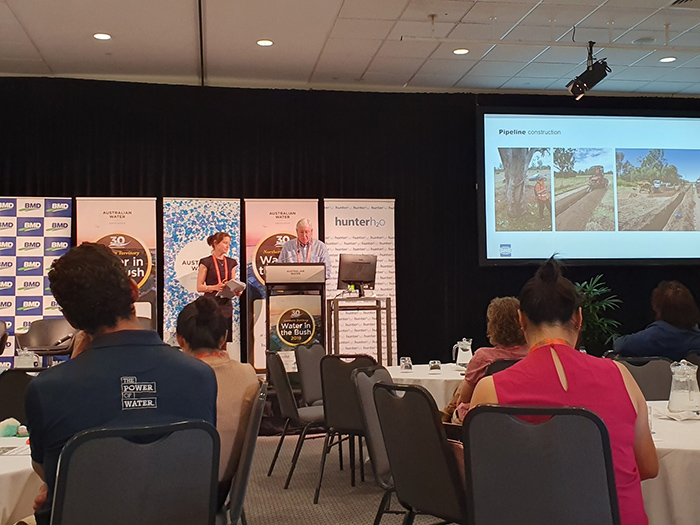 Late last week, Moree Plains Shire Council's forward thinking and innovative problem solving was showcased to peers at the 2019 Australian Water Association Conference in Darwin through a presentation on the recently completed Boggabilla Too
melah Bi-Directional Pipeline project.
The presentation, made by Project Manager Graham Macpherson and Senior Civil Engineer from GHD Consulting Catherine Sherry, formed part of the conference's 'Servicing and Supporting Regional, Rural and Remote Areas' session.
"This conference has provided a wonderful platform for Council to share just one of the innovative projects within its portfolio to industry representatives," explained Mayor Katrina Humphries.
"We were thrilled when this project was selected for presentation at the Australian Water Association Conference, showing that Council's fresh thinking is being recognised in far wider circles than we imagined."
Completed in October 2018, the Boggabilla Toomelah Bi-Directional Pipeline project saw a fifteen kilometre bi-directional pipeline constructed to provide water supply security to both remote towns located in the Northern part of our Shire. This project was 100% funded by the NSW Government through their Water Security for Regions program and was successfully completed within a short timeframe.
"Now more than ever, we are all aware of how valuable a reliable, safe water supply is for our communities. Here in the Moree Plains we are very fortunate to be living on top of an impressive system of artesian and sub-artesian water.
"Council has used this natural competitive advantage to our benefit and through a long term investment in local water infrastructure, we are making the most of our natural resources."
Mayor Humphries added that this project is just one of the many valuable projects being delivered by Moree Plains Shire Council.
"We have three other water projects on the books which have been awarded funding through the NSW Government's Water Security for Regions program. These will see water security and quality improved across the Shire.
"It's busy time for us with many other major projects currently being delivered across our Shire including the $14 million Carrigan Road upgrade between Mungindi and Boomi and the $3.4 million North-South link which is a key part of our Moree Integrated Transport and Intermodal Program of works leveraging the Inland Rail. Both of these are largely funded by the NSW Government.
"As well as these large infrastructure projects, we are so proud to have the North West Country Universities Centre up and running, heritage upgrades happening in Moree's CBD and many other community projects happening around the Shire.
"Even in these unprecedented times of subsisting drought, there is so much on the go for the Moree Plains. We need rain, but in the interim, we're preparing our Shire in a way that ensures we'll make the most of it when it comes."
Caption: Water in the Bush presentation, Project Manager Graham Macpherson and Senior Civil Engineer from GHD Consulting Catherine Sherry