Have Your Say - Re-Naming of Roads and Streets Within Moree Plains Shire
Moree Plains Shire Council (Council) invites all community members to provide suggestions for the new names of multiple roads and streets within Moree Plains Shire.
The roads and streets to be renamed have been identified as duplicates within the Shire as they fall within the same postcode, posing a risk to public and operational safety as emergency services can become confused when responding to incidents.
The following table indicates the current duplicate-named roads/streets within the Shire and their location and the road/street proposed to be renamed: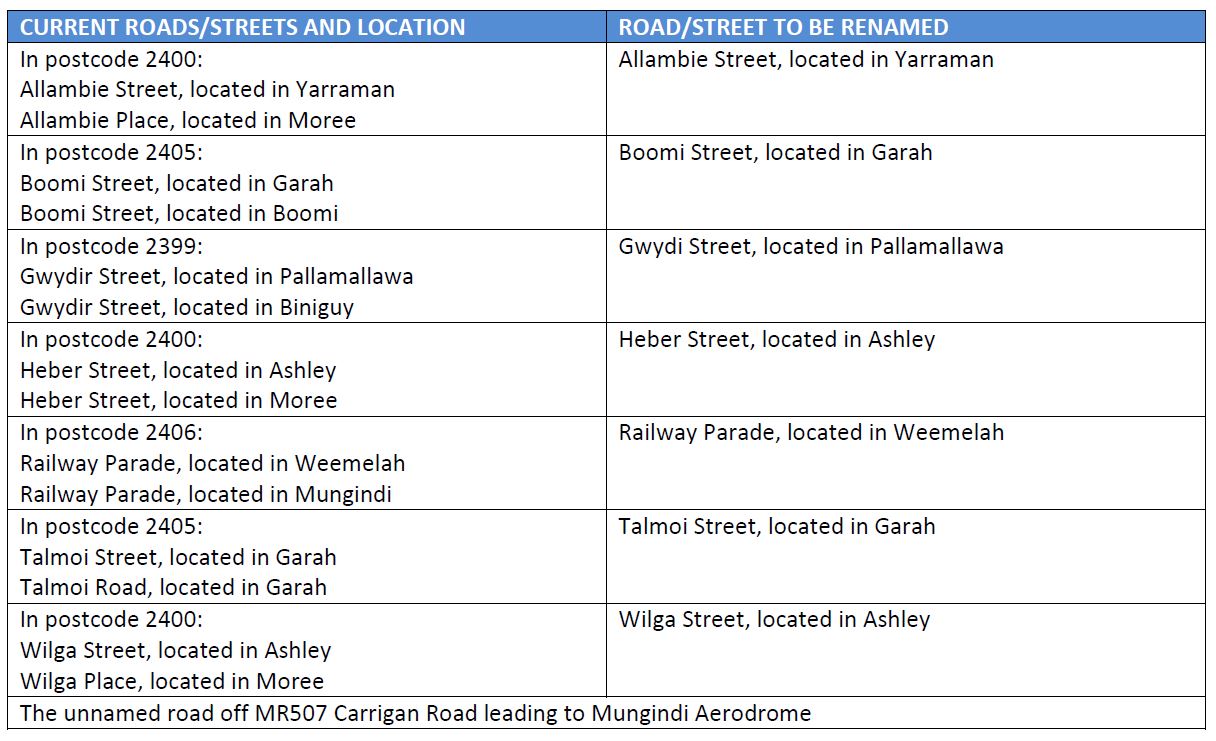 Council's General Manager, Mr Lester Rodgers acknowledges that road names are intended to be enduring and the practice of renaming a road/street should be avoided unless absolutely necessary.
"Road name clarity is an issue of public safety; emergency services as well as postal services require clear addresses to report to; duplicate street names cause confusion and so call for the need to be renamed.
"As our Shire and the towns and villages included in it are regarded as rural and remote locations we must abide by the distance rules between each road and street outlined in Road Naming Policy adopted by Council," he said.
Road and street names are regarded as duplicates if they are in a local government area and within 30 kilometres of each other in rural areas or within 50 kilometres of each other in remote areas and have the same or similar in spelling to an existing street or road, regardless of the road type.
Mr Rodgers highlighted that it is a great opportunity to uncover the history of Moree Plains Shire and colour our streets with the names of local flora, fauna, significant themes from our past or remarkable people.
"Names of early settlers, war service men and women or other people who have contributed towards the heritage of the area are great suggestions for street and road names.
"Aboriginal name suggestions are also highly supported and will include consultation with the Local Aboriginal Land Council.
All road name suggestions must meet the requirements of the Road Naming Policy; when suggesting a name, the following naming authorities will apply:
Be in standard Australian English or recognised format of an Australia language local to the area of the road.
Easy to pronounce, spell and write, and not exceed three works (incl. road type) or 25 characters; an exception applies to Aboriginal names.
Exclude diacritical marks/symbols.
The following punctuation will not be included as part of a road name:
Full stop/ period (.)
Comma (,)
Colon (: )
Semi-colon (;)
Quotation marks ("")
Exclamation mark (!)
Question Mark (?)
Ellipsis (…)
Hyphen (-)
Dash (/)
Parenthesis (())
Apostrophe marks will not be included in names finishing with 's', and the possessive 's will not be included.
Exclude preposition (e.g. Avenue of the Allies).
Exclude 'the' as a sole naming element (e.g. The Esplanade).
Exclude abbreviation, initial or acronym (e.g. Mount not Mt) expect St will be used for Saint.
Exclude a space between Mc or Mac and the rest of the name.
Exclude Arabic numerals (e.g. 3 or 4th) or Roman numerals (e.g. IV or X); numbers included in road names will be written in full.
Road names will be spelt the same as the name it is derived from.
Exclude initials.
Roads should also not use existing commercial or business names as it can be construed to be promoting a business; names regarded as being offensive, racist, derogatory or demeaning will also not be accepted.
Submissions will close at 5.00pm on Friday, 14 February 2020 and must be made in writing addressed to the attention of the General Manager, Moree Plains Shire Council, P O Box 420, Moree; emailed to This email address is being protected from spambots. You need JavaScript enabled to view it., or delivered to the Moree Plains Shire Council office.
NSW Address Policy and User Manual link: