Moree Regional Airport and QANTASLINK Service
This evening, we welcome the return of QantasLink to the Moree Plains, with evening flights resuming between Sydney and Moree each Monday, Wednesday and Friday from the Moree Regional Airport.
Moree Plains Shire Council has been working with QantasLink and M&G Travel to implement the Qantas Group's Fly Well program for customers and QantasLink team members in readiness for the return of our Sydney flight service. This has included a number of measures to protect the safety of on-site staff, customers and community members, including increasing cleaning measures and ensuring social distancing requirements in the Moree Regional Airport are satisfied.
In accordance with the Fly Well program requirements, the Moree Regional Airport and terminal are open with a few changes to the facilities and services:
| | |
| --- | --- |
| ✅ | On arrival to the terminal, please limit the number of persons alighting and entering the terminal building. Social distancing measures, including the 1 person per 4 square metre rule, apply while inside the terminal so ensure that passengers have priority access to the terminal. |
| ✅ | Please use the hand sanitiser provided on arrival. |
| ✅ | Patrons are asked to abide by the 1.5m rule, including when approaching the service desk in the terminal (for QantasLink and hire cars) and while collecting their luggage from the pick point when they depart the terminal. |
| ✅ | Please take note of the floor and seat markers, required to support social distancing. |
| ✅ | Increased cleaning is being undertaken throughout the terminal. |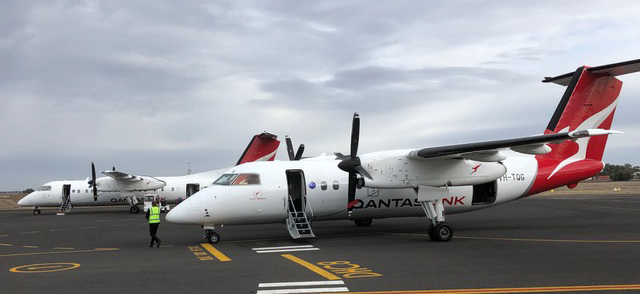 Council's Acting Director of Engineering Services, Alan Lawrance confirmed, "Preparations at Moree Regional Airport have been completed for the return of our service to Sydney with QantasLink.
"We have been working with QantasLink and M&G Travel to ensure this invaluable service can resume seamlessly and in accordance with the Fly Well program required by the Qantas Group. These measures are vital to ensure the safe operation of the air service and to provide confidence to the travelling public."
Please see the Qantas website for the updated flight services