Creating a Water Park - Artesian Water Reuse
For over a century, spent artesian water from the Moree Artesian Aquatic Centre (MAAC) and the local artesian water industry has been discharged into the Mehi River.
To solve an environmental issue and provide improved health, wellbeing and regional sustainability, Moree Plains Shire Council, in consultation with the Moree Water Ski Club, developed an idea to reuse the water by building a community water-based recreational and sports park, situated in the Evergreen Precinct, 10km south of Moree.
Lester Rodgers Katrina Humphries Paul WildeAfter calling for residents' name suggestions, the Council officially resolved to call the facility the Moree Water Park with a plaque unveiling to take place in September. The lakes are still being filled and public access should be available by mid-summer.
Moree Plains Shire Council General Manager Lester Rodgers said the water ski lakes would introduce a significant new recreational and tourist facility which is not available in the region.
"The water park is a family friendly facility designed to cater for an array of water-based activities such as canoeing, dinghy sailing, dragon boat racing, jet skiing, kayaking, model boating, rowing, wakeboarding and water skiing.
There will also be a range of shore-based facilities such as amenities, vehicle and boat trailer parking areas, viewing areas and landscaping," said Mr Rodgers.
The Moree Water Park includes two tournament water ski lakes built in compliance with International and Australian water skiing standards and a recreational circuit lake almost 1.2km long. The lakes are filled primarily by spent artesian water which is pumped through nine kilometres of pipeline stretching from the MAAC to the water park.
The lakes are constructed to prevent water seepage into the groundwater or surface waters, which has required extensive design, quality controlled soil assessments and construction procedures.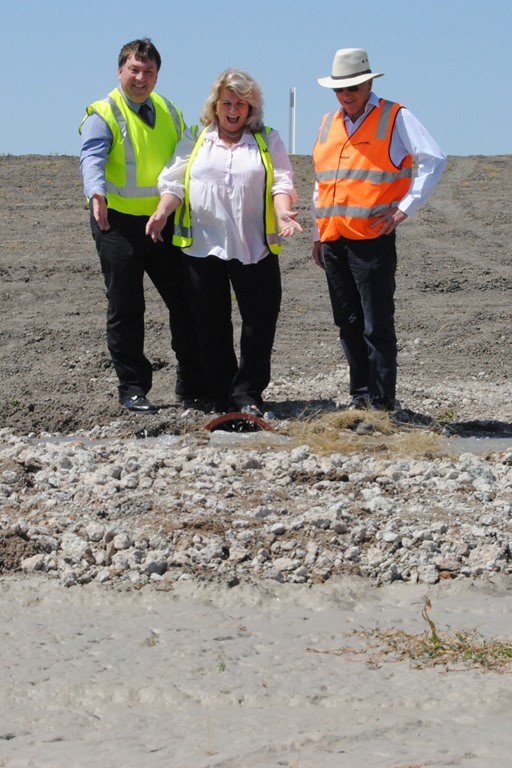 Enthusiasm from General Manager Lester Rodgers, Mayor Cr Katrina Humphries and Paul Wilde Principal Contractor from Wilde Civil Pty Ltd bubbles like the waters that have filled the lakes in anticipation for the plaque unveiling of the Moree Water Park.