Melbourne to Brisbane Inland Rail Symposium
The Melbourne to Brisbane Inland Rail Symposium 2014 which will be held on Friday 7 March 2014 in Moree NSW.
The overall theme of the symposium is; Melbourne to Brisbane Inland Rail – Corridor of Opportunity. The one day conference program will be driven by three key themes:
The role of private industry and all levels of Government in the Inland Rail task.
How we collaborate to get the best 21st Century Inland Rail result.
Economic development opportunities for Regional Australia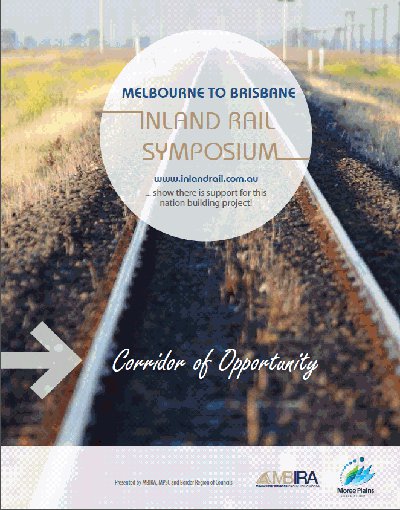 The Symposium will provide an opportunity to look at the linkages that transport provides to a collaborative, fully integrated freight supply chain to maintain Australia's international competitiveness. It will also allow dialogue to continue, building the knowledge base and enhancing the capacity to inform policy decisions and appropriate construction of the Melbourne to Brisbane Inland Rail as a national building project.
Given the projected doubling of the freight task by 2020 and the challenges posed by increasing population growth and congestion, environmental concerns such as climate change and increasing liquid fuel prices, Australian transport policy can no longer accept an incremental piece-meal approach to planning.
The Symposium is expecting an attendance of key decision making delegates from rail, road, port, agriculture, resources and other key industries, as well as representation from all levels of government to consider a holistic view of inter modal transport management.
An Inland Rail concept built to "future-standards" is simple, yet visionary and provides a significant opportunity to contribute to economic sustainability of inland Australia as well as the whole nation.
In addition to the Honourable Warren Truss, Deputy Prime Minister and Minister for Infrastructure, other speakers include Bryan Nye, CEO of the Australasian Rail Association, Michael Deegan, National Infrastructure Coordinator, representatives of GATR, the Port of Brisbane, the Ettamogah Rail Hub, and key decision makes from industry and government. Anthony Albanese MP will be invited to attend as will Ministers from New South Wales, Queensland and Victoria.
The Symposium is open for anyone to attend.