Moree Plains' Inland Rail Vision Shared With Minister McVeigh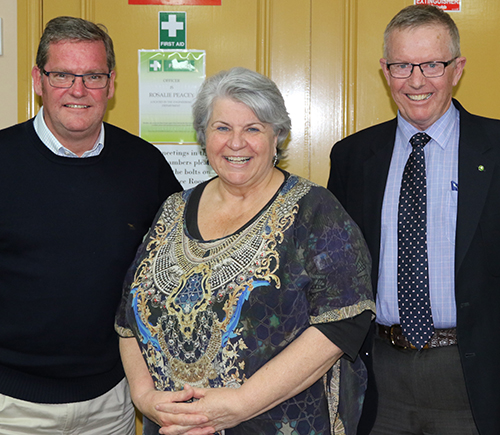 Federal Minister for Regional Development, The Hon. Dr John McVeigh, Moree Plains Shire Council Mayor Katrina Humphries, Federal Member for Parkes The Hon. Mark Coulton;
The Member for Groom was visiting the region in order to attend the Navigating the Drought Farming and Small Business Forum in Moree, and was accompanied by Assistant Minister for Trade, Tourism and Investment, and Federal Member for Parkes, The Hon. Mark Coulton.
Mayor Katrina Humphries declared the meeting as most promising, highlighting that "as a former grain and cotton producer himself, Minister McVeigh is in a unique position in that he completely understands the huge scale of our production out here. And, as a resident of Toowoomba region, he also sees the impact of that produce currently having to get to market via our national road network, first hand".
Council's plan for capitalising on the Inland Rail includes a number of key road and rail infrastructure projects aimed at streamlining freight movements and stimulating private investment in the Shire. Given the considerable cost to develop this infrastructure, Council is seeking funding through a range of Federal and State funding programs.
While discussing the development of intermodal and rail maintenance facilities, Minister McVeigh said Moree has an advantageous location on the line between Melbourne and Brisbane.
"The Coalition Government will be looking at a number of regional towns, including Moree as an option for an intermodal hub. Inland Rail will take hundreds of trucks off the road and give farmers and regional business owners a more efficient and reliable mode of transport to deliver their produce to markets throughout Australia and the world," said Dr McVeigh.
Councillor Humphries remarked on the revolutionary impact the national project will have on regional Australia, commenting that "it is truly exciting. One day our grandchildren will look upon it as our generation looks upon the Snowy Mountains scheme".
"It is great to see that our Federal counterparts recognise that the Moree Plains can play a pivotal role in unleashing regional development opportunities off the back of this nation building project", she said. To find out more about how Moree Plains Shire Council's is becoming Inland Rail ready watch Council's short video,


More information on the Inland Rail and the progression of each section of the project can be found on the ARTC website.