Moree Australia Day Winners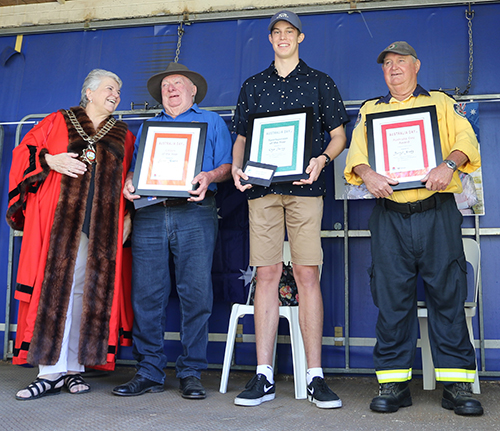 Three local legends and a devoted community group were celebrated this morning at Moree's Australia Day event, receiving Australia Day awards acknowledging their commitment in various categories.
The awards celebrate the diligent work of each individual and community group that also contributes towards Moree Plains' vision of a diverse, friendly and strong community.
The awards were presented by Moree Plains Shire Council Mayor Katrina Humphries who noted how special it is to receive an Australia Day award.
"Each category winner was so deserving of their awards today; it is a heart-warming moment acknowledging Australia Day award winners and their contribution towards their category", said Mayor Humphries.
The winners of the 2021 Moree Plains Australia Day Awards are:
Volunteer of the Year - Darryl Brady
Volunteer Group of the Year - Mungindi Rural Fire Service
Sports Person of the Year - Rhys Devney
Citizen of the Year - Barrie Brooks
A special congratulation goes to Kathleen Walker and Lyn James for being nominated for an award today, their ongoing commitment to our community do not go unnoticed.
The Australia Day event was held at Jellicoe Park this morning, bringing together the Moree Plains Shire community who also welcomed a new Australian Citizen and enjoyed a free BBQ breakfast prepared by the Moree Lions Club.
Photograph: Moree Australia Day award winners. Left to right: Mayor Katrina Humphries, Barrie Brooks, Rhys Devney and Darryl Brady.