DrumMUSTER
drumMUSTER is a national program that has been set up for the collection and recycling of empty, cleaned, non-returnable crop production and on-farm animal health chemical containers. The aim is to take the container materials out of the waste stream and reuse the plastic and steel through recycling. 
Containers must be flushed, pressure rinsed or triple rinsed prior to delivering to a drumMUSTER  receival site. There must be no visible chemical residue on the inside or outside of the container or it will not be accepted at a receival site.
drumMUSTER product is recycled into useful everyday items such as street signs, irrigation piping, plant stakes and outdoor furniture.
drumMUSTER provides: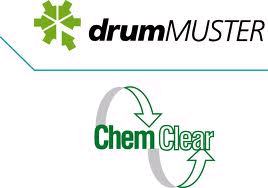 an environmentally responsible solution for chemical users to the problem of disposing their empty chemical containers;
helps property owners to keep their property clean of potential contamination;
encourages good farming practice and meets Quality Assurance obligations; and
Supports the preservation of the wider environment
drumMUSTER and ChemClear are important industry stewardship programs that are part of the Industry Waste Reduction Scheme (IWRS). Agsafe Limited is contracted by AgStewardship Australia manages the levies collected under the IWRS. The IWRS is funded by a levy on eligible non-returnable farm chemical containers over one litre or kilogram in content from participating chemical manufacturers.
 For more information visit www.drummuster.org.au