Careers at Council
More than just a job
A career at Council is more than just a job.
Working with Council means you'll make a difference in our community, not only by helping to protect and enhance our environment but also by developing new skills that will help you work towards achieving greater things for our Shire.
Moree is a great place to live and play but also a good spot to grow your career. As an employee of Moree Plains Shire Council, you can pursue both your family and career goals at the same time.
| | |
| --- | --- |
|  Current Vacancies |  Applying for the role |
|  Why join our team? |  Recruitment Process |
|  Living and working in Moree |  Supporting career pathways |
Jobs and Careers with Moree Plains Shire Council
All Council positions are advertised on Council's website and Facebook pages, as well as local employment agencies. This list may be extended to relevant agencies such as TAFE or Universities.
Moree Plains Shire Council receives applications via the online recruitment system. All job applications must be submitted online before the closing date. Late applications will not be considered.
The online recruitment system will ask you to enter your personal details and provide responses to each of the selection criteria. You will also be required to upload a letter of introduction (cover letter), your resume and two work-related referees as part of the application process.

Needing further assistance? Contact Human Resource Officer on (02) 6757 3222 or email This email address is being protected from spambots. You need JavaScript enabled to view it.
Current Positions with Council
Applying for a role - Step by step guide
Moree Plains Shire Council offers jobs on the basis of merit. This means we choose the applicant who is considered to be most capable of performing the role. To help us reach this decision, we look at your qualifications, experience, skills and standard of work relevant to the advertised position.
Click on the headings below for more detail about each step.
1. Starting your application:
You will need to submit an online application when applying for a role with Council, all of our current vacancies are advertised on our website. If you are interested in learning more or applying for a role with Council, please click on the position title. Here, you will find more information about the role, including a link to the position description and the opportunity to start your application by filling in the required information. Click next to upload your resume and relevant qualifications.
2. Upload your resume:
Your resume will need to be uploaded and saved as part of the online application process. Please ensure your resume contains the following information:
• Your employment history – stating your previous employer's name, the period of employment (from start date to end date), position held and whether it was casual or permanent. Please also include a description of your responsibilities and duties for each role.
• Your educational – this should include trades, certificates, and diplomas. List the qualification, the institution where studies were undertaken and year it was completed. If you are currently studying, list the subjects that have been completed to date. You should also include the types of training undertaken, the training group (ie TAFE) and the year completed etc
• Relevant licences – this should include licences and certificates such as WHSS certificates, first aid, truck and forklift licences. List the certificate/licence, the issuer (RMS, Work cover) and the year it was completed.
• Two referees – a referee is a person who we can contact to discuss your personal or work history. List their name, position, company and daytime telephone number. Councillors from Moree Plains Shire Council should not be canvassed, used as referees or references.
3. Address the essential and desirable criteria:
To maximise your chance of gaining an interview for a position, it is important that you address the essential and desirable criteria, as well as describe relevant work skills and experiences. It is not sufficient to just say, "I work well within a team environment", instead you should effectively show this through the use of examples from your previous work history. For example – completing a certain task with workmates, working with voluntary groups to achieve a goal for the community etc.
The selection panel cannot overlook any of the essential criteria and cannot add any new criteria not included in the advertisement, so it's important that your responses are closely aligned with the criteria. If a large number of applicants meet all the essential criteria, the selection panel will compare all of the applications and choose to interview those applicants who best meet the criteria.
Your answers to the selection criteria questions can be typed directly into the criteria field boxes online however, it is recommended that you compose your responses in a separate document, such as Microsoft Word, then copy and paste into the relevant online fields.
4. Submit your application:
Your online application must be submitted prior to the job's closing date and time as indicated in the advertisement. Late applications will only be accepted and considered if prior arrangements have been made with the person(s) indicated on the advertisement or our Human Resources Officer. Otherwise, your application will not be considered.
5. Where to get help with your application:
Moree Plains Shire Council regularly holds free Information Sessions to explain the process of submitting a competitive job application. This is a great way to gain valuable knowledge about the key principles to ensure your job application for Council addresses essential and desirable criteria and includes relevant information.These sessions are held quarterly and are advertised on Moree Plains Shire Council Facebook page.
For further support to complete your job application, you can contact Council's Human Resources Officer on (02) 6757 3222 or you can seek help from an employment agency.
How do I know if I am granted an interview?
Interviews are usually held two to three weeks after the position closes, if you are successful in gaining an interview, you will be contacted by phone (and an email confirmation will also be sent to the email listed in your online application). If you do not secure an interview, you will be advised via email that your application was unsuccessful.
If you have been granted an interview and need wheelchair access to the building, or an interpreter if you are hearing impaired or have special needs, please advise the HR representative who makes contact.
If you are unsuccessful after the interview process, you will also be advised in writing or via email. If you are an internal applicant and have not been successful in the interview period, you may appeal. While a preliminary offer of employment may be made to an external applicant following the selection process, a formal offer will not be made until the appeal process has been finalised and a pre-employment medical completed.
Unsolicited applications
Moree Plains Shire Council regularly receives unsolicited resumes, however potential candidates are reminded that all permanent roles must be advertised and appointed based on merit. All Council positions are advertised on our current vacancies page and on our Facebook and Linkedin page(s).
Undergoing employment checks
A pre-employment health check applies to all positions with Council, including a drug and alcohol screening. A pre-employment health screening is used to certify that the successful applicant is medically fit to carry out the relevant duties of the position prior to appointment.
Working with children checks also apply for some positions within Council, which involves a national criminal history check and review of findings of workplace misconduct. The result of a working with children check is either a clearance to work with children for five years, or a bar against working with children. Approved applicants are subject to ongoing monitoring, and relevant new records may lead to the clearance being revoked.
This check is fully portable which means it can be used for any paid or unpaid child related work in NSW for as long as the employee remains cleared. For further information relating to working with children checks or to apply, please visit www.newcheck.kids.nsw.gov.au and fill in the online application form, or you can contact a customer support officer on (02) 9286 7219 for assistance with your application.
Once you have submitted the online application, you will receive an application number which will be either: APP1234567E (the 'E' means it is for paid work) or APP1234567V (the 'V' means it is only valid for unpaid work). Applicants must then take their application number and proof of their identity to a NSW motor registry office and pay a fee of $80 for a five (5) year clearance. Following payment and processing by the registry office the application number can now be used in the online verification process that the Employer will undertake, pending the final outcome of the working with children check application.
The three-month probationary period
All positions with Moree Plains Shire Council have a three-month probationary period. During this time, your performance will be reviewed regularly and feedback will be provided. Employees are expected to attend the required induction training sessions and able to demonstrate their learnings. Employees will also be expected to perform any tasks which were claimed at interview stage and display suitable conduct and attendance during this period. Once an employee has successfully completed the probationary period, you will receive a letter of confirmation.
Your checklist - applying for a position
In order for your application to be considered, please ensure you follow these steps.
Why join our team?
As an employer of choice, we strive to provide a happy, healthy and rewarding work environment which leads to a more productive workforce.
More benefits. More potential.
Working at Council means you'll have access to a range of great benefits, including:
• Flexible work arrangements aimed at producing a healthy work/life balance

• Access to our Employee Assistance Program

• A range of salary sacrifice options which maximise take home pay and optimise the benefits of our remote location – for example, salary package 50% of your rental payment while 100% of your mortgage interest payments can be packaged to receive a 50% exemption

• 10% employer contributed superannuation with the ability to salary sacrifice additional amounts

• Four weeks annual leave and the ability to purchase additional annual leave and 15 days sick leave. Long service leave is available after five years of service, as well as carers, maternity and parental leave. In addition, leave without pay may be available to employees in each five years of service, to pursue personal interests such as further education and travel

• Health and wellbeing leave for employees to attend proactive health checks

• Paid volunteer leave to allow employees to provide community services within a local organisation

• Financial members of the various employee associations nominated through the NSW Local Government (State) Award are granted leave to attend the annual Union Picnic Day

• Aboriginal employees are entitled to a day of annual leave in line with NAIDOC Day

• Some positions also receive a regular rostered day of leave, as a nine-day fortnight or one day in three-week cycle

• A highly subsidised corporate wardrobe and access to personal protective equipment for outdoor roles

• Access to an educational assistance program

• Access to our voluntary social clubs and a range of wellness programs.
More inclusion. More diversity.
We believe it's important to have a diverse and inclusive workplace where different backgrounds, cultures and life experiences create a great place to work. We are committed to our Aboriginal Reconciliation Action Plan and are proud to say we have reached 20% inclusion and still growing.
We're committed to ensuring a safe and healthy workplace for all employees, customers and visitors. All employees, elected members, volunteers, contractors and consultants are required to abide by our Code of Conduct which sets out the minimum ethical and behavioural standards of conduct for all council officials.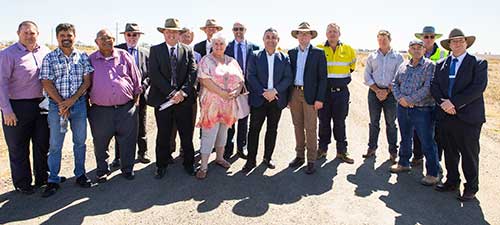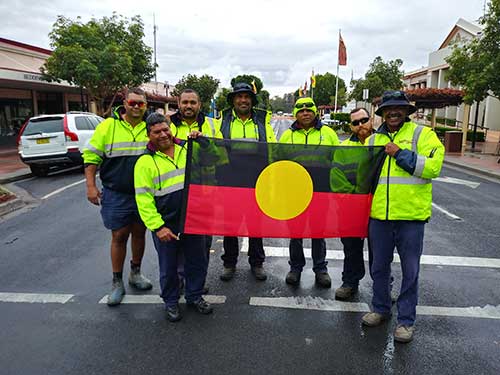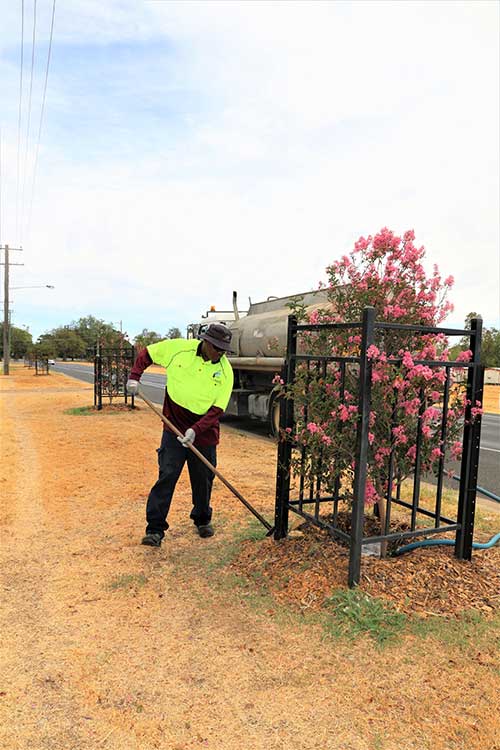 The recruitment process – what to expect
Council will contact you if you have gained an interview generally two to three weeks after the position closes. Interviews can take around one and half hours and is an opportunity for you to meet with us and demonstrate your suitability for the job.
If you have been granted an interview and have special requirements such as requiring wheelchair access, a sign language interpreter, plus size furniture, or if you have an identified disability that requires additional support or advocacy to ensure equity – please advise the Council representative who contacts you.
You will be interviewed by at least three Council representatives (referred to as the selection panel). This is generally:
• The Director/Manager and/or their nominee for the role

• An independent employee from outside the area where the role will base who generally hold a similar grade or level of responsibility as the position which is being recruited

• A Human Resources representative
Notwithstanding the above representatives – we try to ensure a cross section of genders, cultural diversity or Aboriginal or Torres Strait Islander descent on the selection panel.
The interview
To ensure a fair and consistent approach, all applicants are asked the same set of predetermined questions based upon the selection criteria. Each applicant is also given the same opportunity to emphasise any additional strengths, experience and/or skills which will strengthen their case and to ask questions of the members of the selection panel.
Interviews are a two-way street – this session provides the opportunity for the selection panel to assess your suitability for the role, and for you to decide if the organisation's culture is right for you, so it's important to ask any questions you have as well.
The selection panel members will ask you questions and take notes on your responses. After listening to each question, take a few seconds to organise your thoughts, think before you speak and ask the interviewer for clarification if you don't understand a particular question.
Try to answer concisely and provide specific examples whenever necessary – it's important to be as specific as possible and focus on describing a particular situation, your solution, and the outcome.
Verifying documentation
As part of the interview process, you will be asked to provide the following information:
• Original certificates (or certified copies) of licences, qualifications, working with children checks, Unique Student Identifier (USI) and any other documents stated in your resume

• You may be asked to show samples of your work – such as photographs or documents, depending on the nature of the role

• You will need proof of your eligibility to work in Australia

• You may also be asked to participate in a set of practical assessments depending on the role you have applied for – for example, a typing or writing test or accounting principles assessment.
Depending on the type of role, several people may be interviewed by the selection panel. At the end of the interview, your performance and suitability will be evaluated and rated by each member of the selection panel.
Post interview
If you are the successful candidate, you will be required to undertake a Pre-Employment Health Screening. If this screen is successful, our Human Resources team will contact you to offer you your employment package.
All applicants for Council positions are required to attend a pre-employment health screening (at Council's expense) before we can make an offer of employment. This condition of employment is used to confirm that you are medically fit to carry out the relevant duties of the position prior to appointment.
Council completes job-matched pre-employment screenings to ensure you are able to carry out the inherent requirements of the position without placing your health and safety at risk. Council also uses job-matched screenings to ensure that discrimination in recruitment does not occur based on irrelevant health factors.
If you have pre-existing injuries or illnesses, Council will take all reasonable steps to accommodate these through modifications to the position, work routine or the work environment. Employment would only be declined if Council is not able to accommodate the needs of a candidate.
Drug and alcohol testing
Successful applicants will also be subject to a breath test for the presence of alcohol and a urine screening for testable drugs. If you provide a positive alcohol breath test or a non-negative drug screening result, the screening agent will contact Council to review the result and the urine test may be forwarded to a Lab for confirmation.
Depending on the result Council may decline to offer you employment. More information about the detection and quantitation of drugs can be found here.
Hearing assessment
Some positions with Council will require a pre-employment audiometry assessment. This includes positions based in noisy environments. Applicants should be aware that Council will notify you if audiometric results indicate a hearing impairment, and we will work with you to examine your previous work history and identify the source of this impairment prior to appointment. Hearing assessments for positions in noisy environments are a mandatory requirement of Council.
Immunisation
Some positions with Council will require pre-employment blood tests or immunisation. These are positions where the risk of infection is heightened due to the tasks required by the employee. Applicants must be aware of these mandatory requirements and if you have any concerns regarding these matters it needs to be raised at interview or prior to accepting employment with Council.
Pre-employment checks
Some positions with Council will require a pre-employment clearance, such as a working with children check or a police check. For positions which are working with children, applicants will need to apply for a 'Working with Children Check' as a component of the selection process. Council relies on checks provided by NSW Office of the Children's Guardian and does not directly investigate an applicant's history with regards to working with children. Applicants who fail the check will be advised of this outcome and encouraged to contact the NSW Office of the Children's Guardian. For more information, please read the NSW Working With Children Check
.
You Tube video courtesy NSW Kids Guardian
Eligibility to work in Australia
Council has a legal obligation to ensure that all employees are Australian citizens, or have appropriate work entitlements. An individual is eligible to work in Australia if they are either an Australian citizen, a permanent resident of Australian, a New Zealand citizen who entered Australia on a current New Zealand passport or a non-Australian citizen holding a valid visa with work entitlements. Under the legislation, it is not sufficient to simply ask a person if they are an Australian citizen, so you will be required to provide evidence of your eligibility to work in Australia upon employment. This includes providing one of the following documents:
• A full Australian Birth Certificate

• An Australian Citizenship Certificate

• A valid visa permitting you to work for the duration of the position
Unique Student Identifier
Obtaining a Unique Student Identifier is a condition of employment and is required in order to access any recognised training – you only need to create it once. Please visit this page to create your USI, which should take less than 5 minutes.
Reference checks
If you are short-listed as one of the preferred applicants for a role at Council, we will conduct reference checks. This helps us to obtain independent information about your previous on-the-job performance. The information we gather during a reference check is directly related to the key selection criteria of the role the applicant has applied for and allows the selection panel to validate the information provided by the person at the interview.
As part of your resume, you should include two referees who we can contact to discuss your personal or work history, which ideally one should be a supervisor from a previous role. You can also list a colleague, a person you have worked closely on a project (professionally or as a volunteer), a teacher or school principal, customer or client. You cannot use Elected Members (Councillors) as referees or references, or canvass them in relation to a position.
Living and working in Moree
More affordability
Do you want to spend more time with your family, or perhaps devote a bit more time to your health and fitness?
Our balanced lifestyle boasts many advantages. With the median property price sitting at $282,000 and the average weekly rent at $300, our affordable real estate means you can buy a home for a fraction of the cost of what it would be in Brisbane, Sydney or Melbourne.
There's plenty of warm, sunny weather on the cards and with most things within a five kilometre radius of the CBD, it doesn't take long to get anywhere and you won't need Google maps to get to your children's sport on time at the weekend.
More opportunity
Our strategic location will help us become the logistical hub for the north west with the rollout of the Inland Rail, while our airport provides daily flights connecting us to major cities and international networks.
More balance
A career with Moree Plains Shire Council allows you to enjoy a healthy work-life balance, giving you more time to enjoy what matters to you. We've created a workplace that is supportive and flexible, where you'll feel valued and encouraged to work in a way that suits your lifestyle.
Find out more about working and living in Moree
Read more about why you should join us.
Employment pathways
Moree Plains Shire Council provides opportunities to people of all ages, backgrounds and experience to enter the workforce through a range of entry-level employment and education pathways.
We offer a range of traineeships, apprenticeships and vacation employment opportunities for both young students and those wishing to gain new skills or a career change, which is a great way to learn, gain experience and get a head start in your career.
School Based Traineeships
School Based Traineeships allow you to start an apprenticeship or complete a traineeship while you're still at school. A School-Based Traineeship combines paid part-time work, on-the-job training and an industry recognised vocational qualification for which you will gain credit towards the HSC.
Traineeships
Traineeships are a great way to enter the workforce. Traineeships with Moree Plains Shire Council involve both on and off the job training through TAFE or another registered training organisation.
Vacation employment
Vacation employment provides students undertaking full-time degrees at an Australian-recognised university with exposure to learning opportunities and a paid workplace experience.
What to expect from your Council traineeship
• Hands on experience in a supportive work environment

• Access to an experienced supervisor who will coach and mentor you

• Work experience with an established organisation in your local community

• A nationally recognised qualification
Traineeship opportunities at Moree Plains Shire Council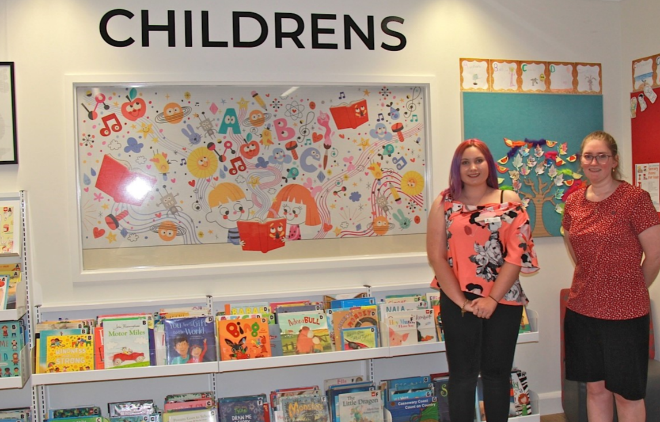 A School-Based Traineeship combines paid part-time work, on-the-job training and an industry recognised vocational qualification for which you will gain credit towards the HSC.
Kirby Andrews, pictured below left, is a year 11 student from Moree Secondary College who is currently completing a School-Based Traineeship at the Moree Community Library.
What is it like working at the Library?
Kirby describes working at the library as her perfect job, thanks to the relaxed atmosphere, the people she works with and the regulars who visit. It's a modern library which is the headquarters for the Big Sky Libraries which service almost 29,000 residents spread over nearly 70,000 kilometres of northern NSW, with branches in Mungindi, Walgett, Lightning Ridge and Brewarrina.

Sarah Dean, pictured above right, also completed her traineeship at the library in 2017 and is now a full-time Library Assistant. She has also had the opportunity to act in a number of roles, including the Library Outreach Officer and Moree Branch Coordinator and was also named as a finalist in the New England Region Training Awards.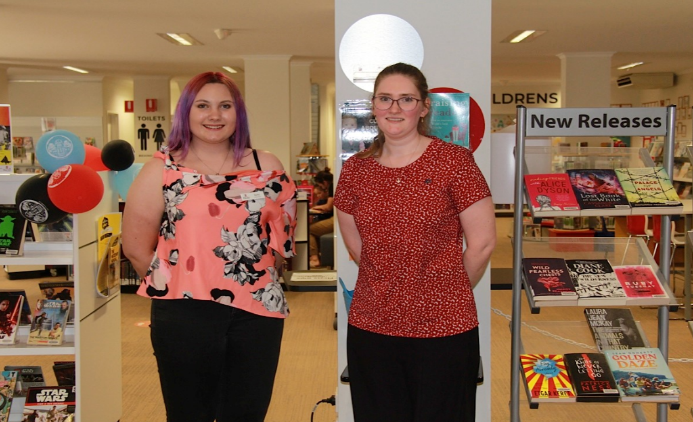 Every day is different
Sarah loves that her job means that every day is different – from delivering programs for the community to helping people research local and family history. Sarah and Kirby encourage anyone who is looking to learn practical skills while gaining a qualification to apply for a traineeship which is a great stepping stone for getting into the career you want to pursue.
If you're in Year 10 and interested in working for Moree Plains Shire Council over the next two years, we'd like to hear from you!