Moree Water Ski Lakes Project Breaks Ground
An official sod-turning ceremony has signalled the start of construction for the Moree Water Ski Lakes development on the southern outskirts of the township.
The official sod Turning of the Moree Ski LakesThe Moree Water Ski Lakes consists of two water ski lakes 800 metres long and built in compliance with International and Australian water skiing standards. The third lake will be 1.2 kilometres long, over 200 metres wide and designed as a circuit lake for a wide range of water sports.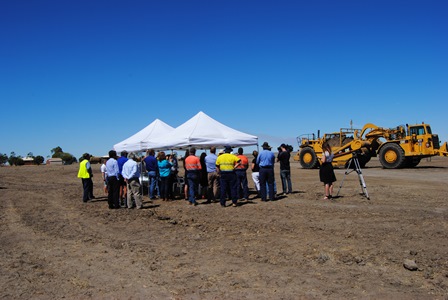 The family friendly facility will be designed to cater for an array of water based activities such as water skiing, rowing, dragon boat racing, jet skiing, wakeboard, canoeing and kayaking. There will also be a range of proposed shore-based facilities such as vehicle and vehicle/trailer parking areas, amenities, clubhouse, viewing areas and landscaping.
The lakes will be filled primarily by spent artesian spa water discharged from the Moree Artesian Aquatic Centre (MAAC) and the artesian spa precinct made possible by the construction of a seven kilometre pipeline stretching from the MAAC to the Evergreen Precinct.
Mayor Cr Katrina Humphries was onsite to welcome onlookers to the event which represents one of the largest recreational projects ever undertaken in Moree.
"This morning, we are doing the sod turning, so to speak, although you can see from the big hole behind me that the sod has already been turned!"
She also invited the community to get involved in naming the new water ski park. "It's the community's water ski park so it is important that people have a stake in it"
"So I think this is a great opportunity for the community so be part of the history of Moree and get involved" she said.
People are encouraged to enter their name suggestion either online via Council's Facebook page or in person at Level 2, Max Centre, 30 Heber Street.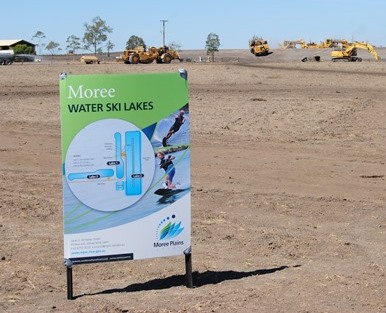 Works begin at the Moree Ski LakesCouncil has appointed local contractor Wilde Civil Pty Ltd to construct the water ski lakes. Wilde Civil's Managing Director, Paul Wilde, represented the company at the ceremony and expressed how delighted he was to be a part of such an important local project.
The Moree Water Ski Lakes will be situated in the Evergreen Precinct, an area of land owned by Council to provide opportunities for environmentally sustainable activities. The site for the lakes was selected on the basis that it is one of the few flood free areas with suitable soils and underlying geology and has no direct connection to ground water, an essential requirement for development.
The project is expected to take approximately four months to complete, subject to weather and favourable ground conditions.
Sod Turning ceremony for the Moree Ski Lakes
NBN news coverage of the sod turning