Plastic Free July - Take the Challenge
Be a part of this global movement! This July, Moree Plains Shire Council is partnering with local cafés to promote the 'Plastic Free July Challenge' to tackle the issue of single-use coffee cups within our community.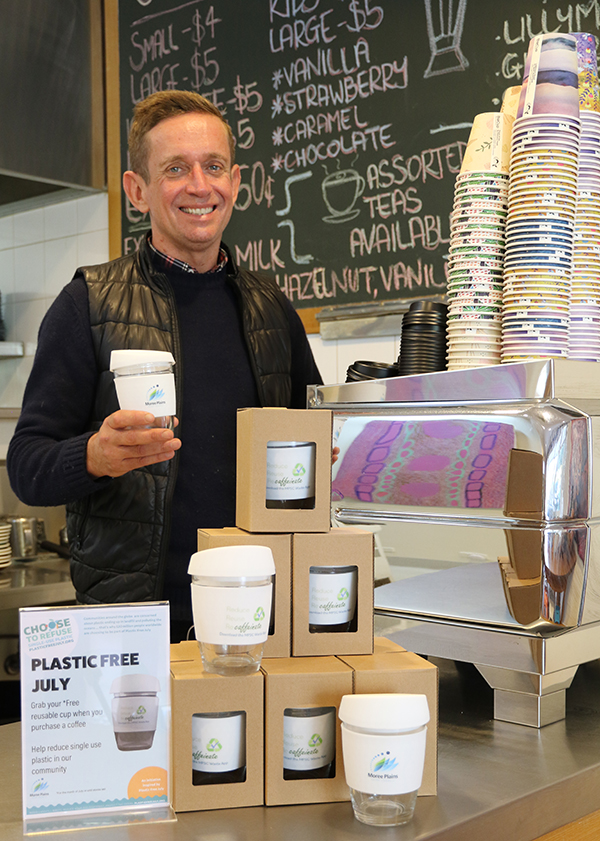 "Did you know, on average, Australians use around 1 billion coffee cups a year and 9 out of 10 disposable cups and single-use containers end up in landfill or littered in our streets and waterways?" said Waste Officer, Dayna Walker. 
Council is supplying participating cafes in the Shire free reusable coffee cups to give to customers who purchase a coffee so they can Reduce, Reuse and Recaffeinate!

"By giving away reusable coffee cups in place of single-use coffee cups, we can help reduce our waste and help promote a positive "plastic-free" change in our community.
It's not about making drastic lifestyle changes, it's about being more conscious of your day-to-day lifestyle and the single-use plastics we use, and thinking about the steps we can take to reduce them" said Ms Walker.

Moree Council also challenges residents to reduce the use of other single-use plastic items, such as plastic straws, water bottles and plastic bags.
We can all create a new habit that will extend past the month of July, enabling all of us to make a massive difference to the community we live in.

Be a part of the solution to plastic pollution and pop into one of the participating café's listed below to grab your FREE glass reusable coffee cup. The promotion will run for the month of July or until stocks run out.
Participating Establishments:

MOREE: Annie's Bakery, Brooker Trading and Co., Café Gali, Café Omega, Deluxe Café, Jillaroo, Outback Café, Racecourse Takeaway, Relaxing Café, 61 Balo.
MUNGINDI: Flock Café, Jolly Swagman, Shafay's.
Visit https://www.plasticfreejuly.org/  to register you or your organisation (for FREE) to be a part of the Plastic Free July Campaign.