Moree's Innovative Business Incubator Coming Soon
Moree's SRI @ Social Co, a UNE Smart Region Incubator (SRI) business development and coworking hub for start-ups and small businesses, is expected to be open in early 2022.
As a partnership between Moree Plains Shire Council, the University of New England (UNE) and local business owner Tyler Macey, the Social Co-House space will be a game-changer for business growth and will be a prominent drawcard on Moree's main strip.
Moree Plains Shire Council Mayor Katrina Humphries said the SRI @ Social Co is a prime example of business, education and government working together to make the Shire's future even brighter.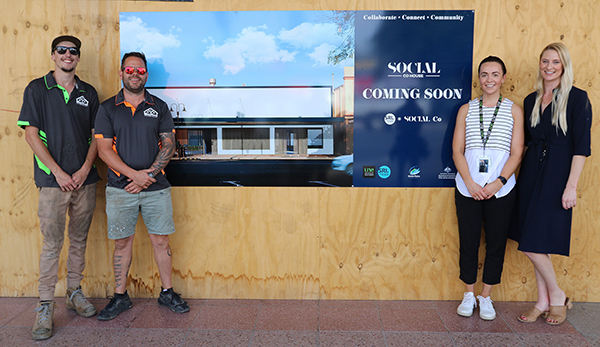 "The incubator and co-working space will have high-speed digital Wi-Fi and video calling connectivity, hot-desk spaces, rental offices, meeting rooms, audio-visual studios and event areas, as well as onsite UNE SRI business development staff and training programs. The possibilities of what a new business can achieve with this level of support and access to resources is mind-blowing", said Mayor Humphries.
Since $515,468 in funding was provided a year ago from the Australian Government, Council and UNE SRI have acquired a head start and have been delivering tailored development programs for businesses and young entrepreneurs looking to grow and flourish. Examples of such programs include Leverage, a 12-month program that gives businesses the tools they need to thrive, and Lean Canvas, a program for owners to market their business in a short and engaging way.
Searching for a permanent SRI home, Council and UNE teamed up with entrepreneur Tyler Macey. Mr. Macey's vision of a co-working space and the UNE SRI's well-established incubator model and business school has brought about the SRI @ the Social Co-House.
"I always saw that Moree needed a collaborative place for locals to start- or scale-up a business and it's great Council and the UNE shared this vision. We are all really excited to see the doors of the Social Co-House open soon and provide a world of opportunity", said Mr. Macey.
"With transformational things going on like the Inland Rail and Special Activation Precinct, Moree is the place to be for a business."
Lou Conway, UNE SRI Director, said she is excited for the next stage of Moree's incubator.
"UNE has successfully established SRIs in Armidale and Tamworth and our dedicated team will continue to bring their expertise to Moree. We will help connect businesses to development and support, mentorships and endless investment opportunities."
"The SRI @ Social Co will be a place where like-minded business go-getters will be able to network, inspire, learn and grow with each other."
This project was funded by the Australian Government's Murray–Darling Basin Economic Development Program. Council has also provided additional funding.
The SRI @ Social Co will be located at 167 Balo Street, Moree. Further details on how to get involved with the incubator and how it all works will be shared in the coming weeks.
Photo: (left to right) Jacob Collier and Tyler Macey of Social Co-House, Phoebe Wood of UNE SRI and Victoria Dawson of Moree Plains Shire Council outside the soon-to-be-open Social Co-House at 167 Balo St, Moree