Moree Plains – Stories To Inspire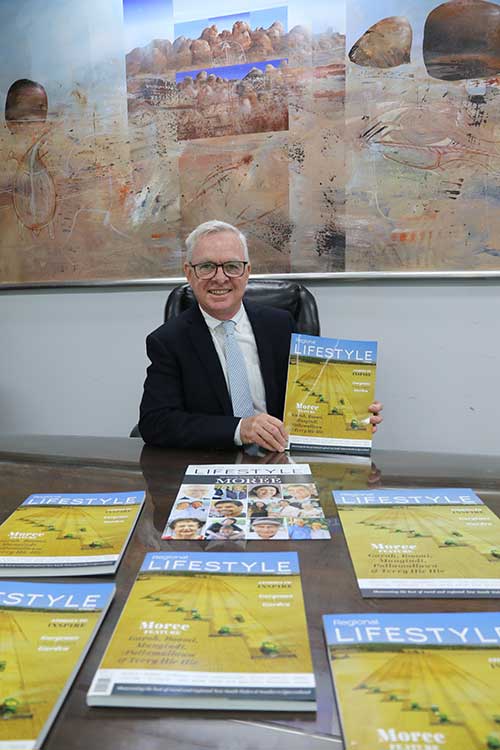 We are thrilled to announce the official launch of the 2023 spring edition of the Regional Lifestyle Magazine showcasing the vibrant and diverse region we call home!

The 42nd edition shines a spotlight on Moree, with captivating feature articles that delve into the heart of our region, exploring the untold stories and aspirations of the people who reside on the Plains.

Readers can expect to find captivating feature articles, insightful interviews with industry experts, stunning visual spreads, and thought-provoking opinion pieces to provide readers with a unique and engaging experience, covering a wide range of topics including lifestyle, fashion, health, and much more.
Recognising the importance to share the stories of our region, Council resolved at its Ordinary Council Meeting to support the Regional Lifestyle Magazine, making a contribution from the economic development (TED) fund.

"We believe that our region is a treasure trove of talent, creativity, and innovation and this publication is filled with timeless content, that truly reflects the spirit and essence while celebrating our rich culture, history, and people that make the Moree Plains so unique" commented Mayor Mark Johnson.

Regional Lifestyle Magazine is a quarterly, premium magazine distributed through newsagents and selected retail outlets. The magazine will also serve as a guide for both locals and visitors, providing insider tips on the best places to eat, shop, and explore through the delivery of high-quality content that informs, inspires, and entertains.
Grab a copy for your café, coffee table, motel, guest and waiting rooms.

Together, let's showcase the beauty and potential of our region to the world.

Copies can also be purchased online at Home - Regional Lifestyle Magazine

Happy reading!